Super software engineer has a passion for ServiceNow (and other hidden talents)
"I come from a family of engineers," admits technical strategist Paurush Saxena.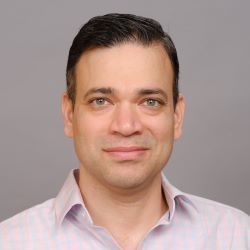 "My father, my uncles...all are engineers. So frankly, I never thought of anything else! And I never regretted it. I'm lucky to do what I've always wanted."
–Paurush Saxena
An expert in low-code platforms—like ServiceNow, Appian, and Salesforce—Paurush does rapid solutioning to build real-life applications for (mostly) federal clients. He works to help them modernize and transform their legacy IT systems. "I love solving business problems through technology," he says. "And it's always fun to work with, and mentor, some of the smartest engineers and technologists in the field."
"I'm passionate about what I do because I get to work with very smart people and solve tough problems. It's rewarding to see your customer reap a good return on investment on something you've delivered."
The business issue at hand
Right now, Paurush is focused on ServiceNow, a cloud computing platform that helps companies manage digital workflows. His team of software architects and engineers develop and implement applications for clients to manage their COVID-19 response. "Our work to support the government during this unprecedented time makes me proud, every single day," he says.
For example, the team developed an online enrollment questionnaire to help the National Cancer Institute collect and track patient data as it relates to this pandemic. They also created a new telehealth application to help the Federal Communications Commission manage grant requests from healthcare providers. And they rolled out a scalable solution to aid the Food and Drug Administration to monitor and track inquiries related to medical advancements. (Meanwhile, other ICF teams are helping other government agencies—like the Department of Health and Human Services and the Centers for Medicare & Medicaid Services—use ServiceNow to modernize HR systems and address information security and privacy concerns.)
From coding to CookieSmart
Paurush is a technologist at heart who has won multiple global hackathons. And even after all this time, he still loves to code. "Last year, my daughters—ages 6 and 8—and I designed an app to collect and manage their Girl Scout cookie orders. Our 'CookieSmart' app took second place at Appian's World Hackathon," he says proudly. Yet, he does have a Plan B in mind. "If I wasn't an engineer," says he, "I'd be a cartoonist."
Learn more about technology careers at ICF.