WEBINAR: How Duke Energy is building climate resilience
How can utilities prepare for the physical impacts of climate change? Join the ICF Climate Center for a discussion with Duke Energy on October 10.
His passion led him to teaching, the law, and—finally—energy advisory
"My career path has not been a linear progression within a single field," begins ICF employee Gene Rodrigues. Part of our
demand side management
(DSM) team, Gene's current focus is helping utilities evolve their energy efficiency programs.
"From a very early age, my parents made sure that I understood the importance of education as the pathway to opportunity."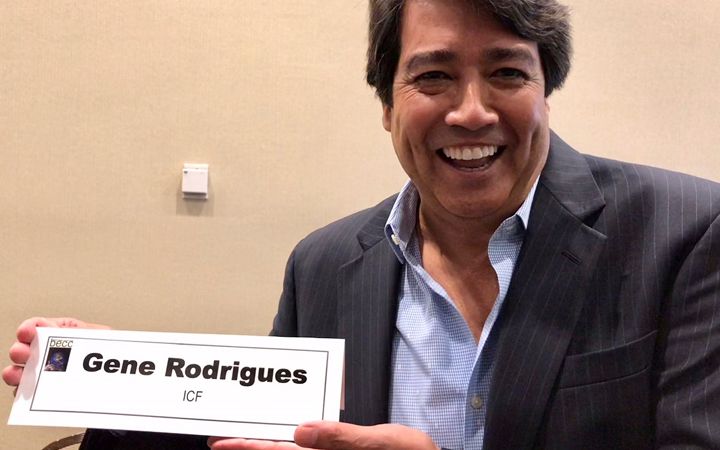 The first member of his family to graduate from college, Gene began his career as a teacher. It felt right at the time and he was passionate about his profession. But a side of him yearned for something else.
Thanks to a desire to "do justice" in the world, Gene went back to school and studied law. As a fresh-faced attorney, one of his first cases was to represent a California utility that had joined forces with other utilities and environmental advocates to revitalize the state's lagging energy efficiency programs. "I was in heaven."
Over the next two decades, Gene rose from practicing regulatory law to overseeing one of the largest utility DSM portfolios in the country.
"What attracted me to ICF? The people. People here understand that ICF's core values support a strong business culture—and reflect what it means to be a truly decent person, the kind of person my parents wanted me to become."
The values-led road to ICF
Through that utility's ENERGY STAR® portfolio, he came to know ICF. (We helped the Environmental Protection Agency [EPA] launch ENERGY STAR® more than 25 years ago.)
It was a game-changer. He retired from that utility, joined ICF, and finally felt at home. "Each career I chose emulated values instilled in me by my parents." At ICF, Gene found all those values in one place. Integrity. Passion. Working together. Embracing differences. Aspiring to excellence.
Championing energy efficiency from Day 1
Initially, Gene brought his policy and program expertise to grow ICF's energy efficiency portfolio. It was an exciting time. And it was about to become more exciting, as his desire to do right for the world meshed with a massive problem facing his California utility friends that only ICF could solve.
It was the largest methane leak in U.S. history. More than 100,000 tons—equivalent to over 500,000 cars—released continually over 112 days. That leak, in Southern California's Aliso Canyon, caused the gas utility to relocate thousands of families and overwhelmed its customer service center.
ICF was able to stand up a call center dedicated to helping relocate customers and assist with public communications. Our successful implementation led to more work, facilitating a conservation campaign involving Southern California local governments and utilities. And that campaign was credited with helping keep the lights on in the region through two hot summers.
The connections Gene made through that project deepened his relationships within ICF. Today, he's helping other ICF teams design and propose programs purpose-built for California utilities. And he's teaming with ICF Next to help our federal clients roll out an energy efficiency "storytelling" project for the EPA. That project will serve as a platform to support the next generation of energy efficiency champions across the U.S. He's also advising ICF employees—and our clients—on how to ensure that underserved utility customers receive their fair share of benefits as the U.S. transitions to clean energy.
For Gene, the greatest reward isn't industry accolades. It's that his work—and workplace—"places me within a community of people I admire for their daily contributions toward making life better for everyone."
Learn more about ICF's energy work.