Bringing together innovation and experience to forge new bonds
Digital and engagement leaders Mary Schwarz and Jennifer Folsom are inspired by the women they met at the Forbes 30/50 Summit
What do a ballet dancer and a diplomat have in common with an app developer and a start-up entrepreneur? No, this isn't some sort of riddle. It's a snapshot of some of the groundbreaking and innovative women—young super achievers and experienced legends alike—who gathered at the annual Forbes 30/50 Summit in Abu Dhabi.
With International Women's Day as the backdrop, women from around the globe came together for moments of discussion, mentorship, and collaboration. Among them were two women leaders from our digital and engagement team, ICF Next: Mary Schwarz, managing partner for government, and Jennifer Folsom, senior partner for growth. We caught up with them after their return to hear more about the most memorable moments.
One of the core ideas of the summit is that the success of women—based on experience and wisdom and leadership—no longer has an expiration date. What does this mean to you?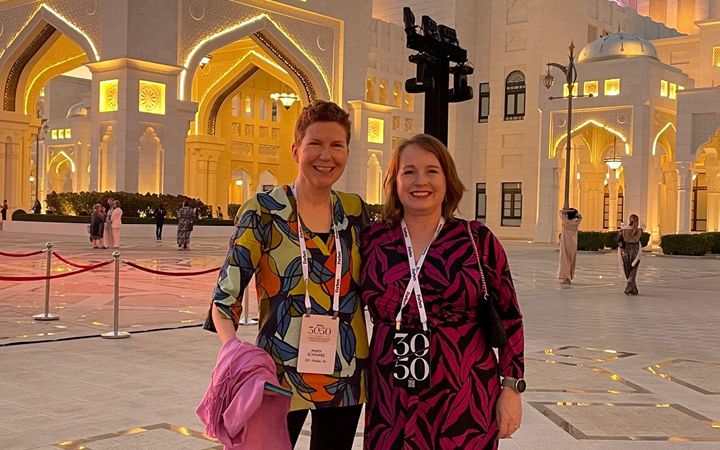 Jennifer: Women, particularly women of color, have fought so many uphill battles for equity. Women also experience ageism more often than men—even when it comes to superficial things like gray hair! But as more professional women find ways to balance or incorporate caregiving responsibilities, many of them are really hitting their stride in their 40s and 50s. And we're starting to see that as more acceptable now.
Mary: Yes, we met several older women in the entertainment industry who shared that the concept of aging out of roles is starting to shift—that the concept of an expiration date is evaporating. That is encouraging. What I also find exciting is seeing more women return to the workplace after raising young children or caring for family members, and just being more open about their personal lives. I'm a big advocate for bringing your whole self to work.
What was it like to hear from both "young super-achievers who innovate" and "legends and icons with priceless experience"?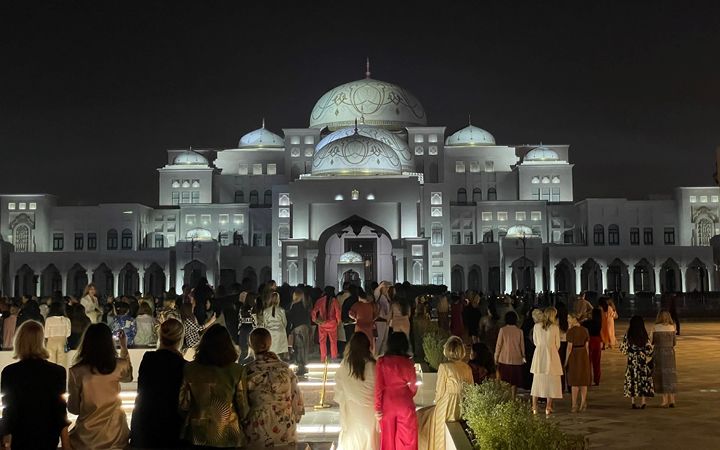 Mary: There simply wasn't an "us versus them" separation. There weren't separate program tracks. It was truly collaborative.
Jennifer: This event really put to rest that tired old trope that "women are our own worst enemies." The atmosphere was very collaborative. And the attendees were overwhelmingly generous and kind.
Mary: And fun! One of the women who shared her story was an "accidental influencer" who bridges both worlds. Lynn Davis (AKA Lynja) is a retired engineer and software programmer whose videographer son convinced her to make 30 videos in 30 days of her daily life during the pandemic. That grew into a set of cooking videos on TikTok and now she's a social media influencer! She reminded us that it's okay to be open and fun while being yourself.
What were some other memorable moments?
Mary: I've never been in an environment that was more open to networking—waiting in lines, riding in elevators, finding seats at tables. It was almost surreal to see so many women who have made a tremendous impact on the lives of women out there networking. At one point, I saw journalist and activist Gloria Steinem hanging out in a souk, chatting with people. In her late 80s!
Jennifer: I was in awe of the first lady of Ukraine Olena Zelenska. Here is a woman who certainly didn't seek out her current situation. Yet she was so gracious and vulnerable. Her advice to only worry about what you can control and her emphasis of the value of rallying support and relationships really stuck with me.
How do you connect this experience back to our work, teams, and culture at ICF?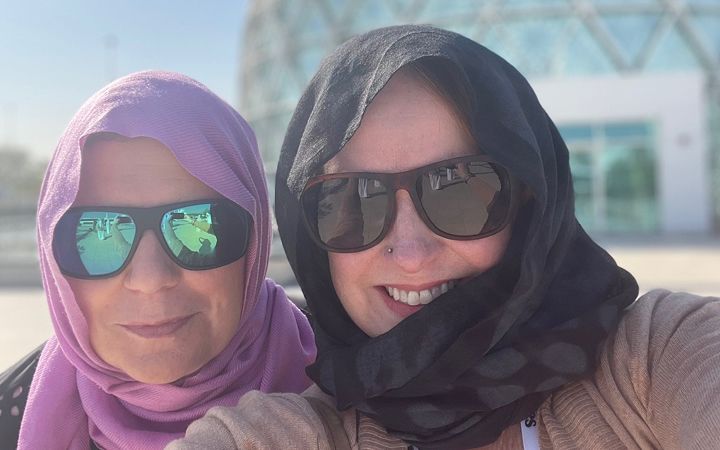 Mary: Everyone was so willing and interested in building new relationships. And every conversation tied back to something valuable in my professional life. I met several younger women involved in climate and energy resilience. While these were dominant themes in attendees' conversations, the agenda only lightly touched on these topics. But it was clear that people are seeing so much of our life experiences through a climate lens.
Jennifer: One speaker shared, "If you aren't failing, you aren't taking enough risks." How do we embrace a culture where you can take acceptable risks, knowing they can lead to breakthroughs? How do we create a supportive space for women to take on bigger roles and test the limits?
Mary: I appreciated the many fresh perspectives on challenging assumptions and an appreciation for disruption. We know that everything is ripe for innovation and evolution. And when we bring that to our clients and our own company culture, we achieve the social impact that aligns to our purpose of building a more prosperous and resilient world for all.