ICF leaders rang the Nasdaq stock market closing bell on our 15th anniversary of going public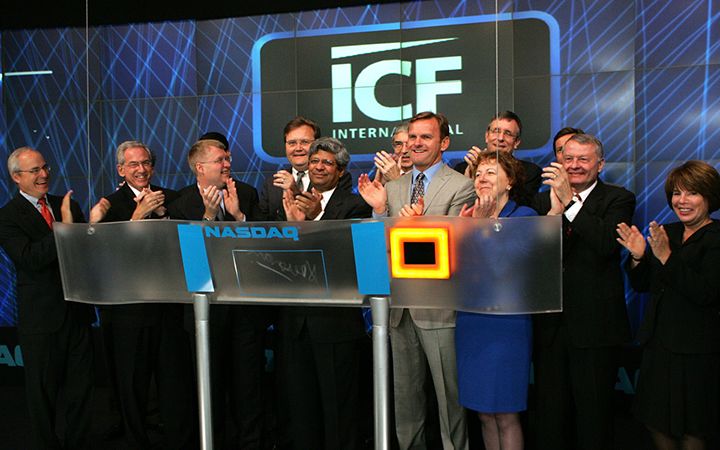 In 2006, Twitter launched, Pluto lost its planet status, the U.N. Human Rights Council was established—and ICF went public, trading on Nasdaq under the stock ticker ICFI.
It was an exciting time for our company, under the leadership of Chairman and CEO Sudhakar Kesavan. In 2006, we launched America's largest housing recovery effort following hurricanes Katrina and Rita. We became the first professional services firm in the world to achieve net carbon neutrality. And we were named one of The 10 Best Firms to Work For by Consulting magazine.
"ICF will continue to address many of the most important challenges of our time. Our employees have the passion and expertise to tackle these complex issues and deliver the results that our clients demand." — Former Chairman and CEO Sudhakar Kesavan in our 2006 letter to stockholders
Fifteen years later, under the leadership of our Chairman, President, and CEO John Wasson, we've remained true to our purpose of building a more prosperous and resilient world for all. We continue to partner with organizations around the world to bring transformative projects to life and tackle some of the most complex global challenges of our time. And we're still carbon neutral.
"Thank you to our clients, partners, and shareholders for helping us reach this milestone—and to our employees who work together every day on issues we believe will make a difference." — Chairman, President, and CEO John Wasson during the closing bell ceremony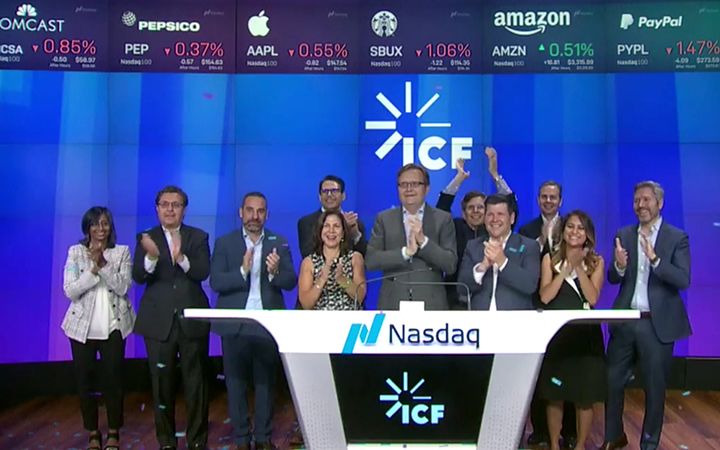 Several of our leaders made the journey to New York City to celebrate our 15th anniversary as a publicly traded company by ringing the Nasdaq closing bell in Times Square.
We're proud of our achievements. In 2020, we achieved a record $2 billion in sales and $1.5 billion in annual revenue. Despite a highly challenging and unpredictable year, we've reached new levels of ingenuity in how we deliver for our clients. We're helping them combat the COVID-19 pandemic. Define their paths to global carbon neutrality. Rebuild communities from the devastation wrought by hurricanes. Deploy new and advanced technology systems. And much more.
Here's to 50+ years since our founding, 15 years since we went public, and the opportunity ahead to make a difference every day.