Proteomic cancer research project team wins FedHealthIT award
How we're using bioinformatics and innovation to help the National Cancer Institute advance our understanding of cancer.
When the National Cancer Institute (NCI) was looking for a partner to help organize, store, and make accessible large amounts of proteomic cancer research data, they selected ICF through a competitive selection process for our combination of public health IT and scientific expertise.
NCI receives large volumes of mass spectrometry data from researchers in the Clinical Proteomic Tumor Analysis Consortium (CPTAC)—a national effort to accelerate the understanding of the molecular basis of cancer through large-scale proteome and genome analysis, or proteogenomics.
To make these data publicly accessible—by physicians, clinicians, and scientists in the cancer research community—we worked with NCI to develop a research data management solution—the CPTAC Data Coordinating Center—and an interactive portal built on the AWS platform—the Proteomic Data Commons (PDC). Which together ensure speed and quality when handling the data.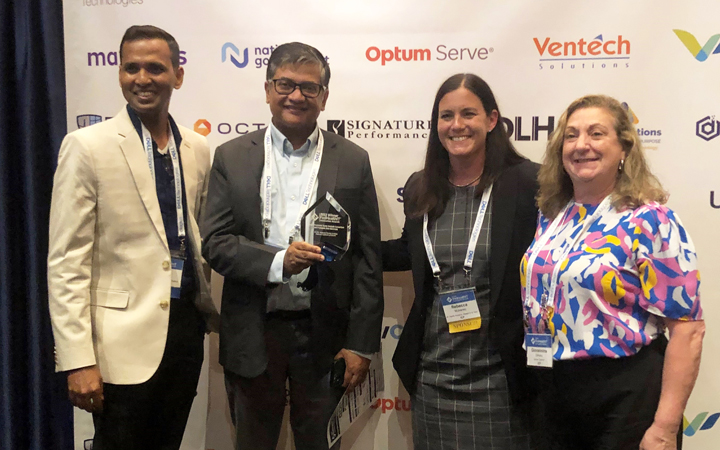 ICF's Ratna Thangudu, Anand Basu, Rebecca Mulvaney, and Giovannina DiPietro
Today, the PDC is a component in one of the largest cancer proteogenomic data warehouses in the world. Accessed by 54K+ scientists to date. With 320K+ files downloaded. And impacts showcased in 18 landmark proteogenomic cancer publications—advancing our understanding of numerous cancers, including ovarian, breast, colon, lung, pediatric, and adult brain cancer.
The PDC also hosts cancer proteomic data from the International Cancer Proteogenome Consortium (ICPC), currently involving 14 countries.
And the project team was recognized with a 2022 FedHealthIT Innovation Award for this collective body of work.