Her passion for executing IT MOD solutions inspires those around her
"I really think I was born a program manager," ICF employee Aurelie Dardel admits. "I love to plan, execute, and control everything." From an early age on, she was drawn to taking charge—of class field trips, friends' parties, vacations, etc. And while some may have called her a control freak, "doers make things happen," she adds.
"Doers" are also right at home here at ICF.
Aurelie came to ICF through our acquisition of ITG earlier this year. She started her career as a financial analyst, but "I missed doing what I love—executing solutions." Like the work she currently does for the U.S. State Department, modernizing and digitizing processes using ServiceNow applications to improve efficiencies.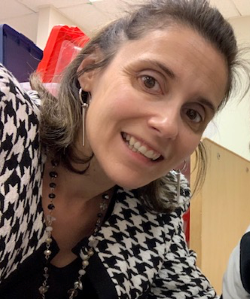 "I'm lucky that I'm able to make a living doing what I love. It's been fun, inspiring, and rewarding since Day 1. And I'm confident this excitement will never waver."
–Aurelie Dardel
A MOD solution
It was, Aurelie says, "the most challenging portfolio I have had the pleasure of handling." It began with a need to retire a legacy, long-obsolete system. Despite a long list of requirements, the project was deployed on budget and on time.
Today her team works in a total Agile environment, an IT development framework. "If you look at trends," she continues, "we deploy at least three times more than any other ServiceNow program."
And they're making a significant difference for an elite federal agency. They created their own ServiceNow practice within the State Department—and built a reputation as over-achievers who make impossible business solutions possible.
"The most rewarding part of the process was reading the clients' emails, thanking us. The icing on the cake? Why they thanked us. Now, in our current COVID-19 world, they rely so heavily on the application we created. They wouldn't have been able to work without it."
Why it matters
"We have a direct impact on our customers' daily workload," Aurelie adds. "We support them in their business challenges, and we create change in their professional lives." Her team makes processes and products more efficient—and customizable—for better data-driven decisions.
It's a passion, and a determination, Aurelie carries with her in all aspects of her life—starting with her role as a mother. "My little one, Leo, was born 4 weeks early and had to be placed in a neonatal intensive care unit for a month. This was the biggest personal challenge in my life." So in 2017, she began volunteering with the March of Dimes' Prematurity Campaign Collaborative to address persistent health inequities and the rising rate of preterm births in the United States. Not only does she support the campaign's activities, "I'm always available to moms of preemies to share my experience and provide a line of communication."
And that's how this Doer gets things done.
Learn more about technology careers at ICF.