Digital modernization report: Top trends shaping government in 2023
From big data to zombie apps to staffing challenges, our latest research reveals opportunities for agency leaders to get ahead. 
How to adjust your training tools in the COVID-19 world...and beyond
If you're like most people, you're watching events disappear from your calendar at a startling rate. The coronavirus pandemic has forced every industry to rethink group activities—large and small. Even trainings that support the growth of your organization.
During this unprecedented time, it's important (if not critical) for people to connect and learn. But how can in-person learning events effectively transition to virtual delivery?
It's a challenge ICF has helped several clients solve, long before anyone ever uttered the word "COVID-19."
Like how we successfully converted instructor-led materials for the Office for Bombing Prevention into eight 60- to 90-minute virtual instructor-led training (VILT) modules. These highly interactive VILTs educate thousands of people each year on how to respond to and protect against attacks using explosives.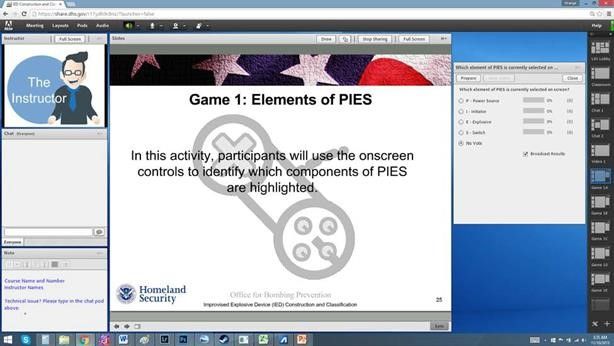 Or how for U.S. Digital Services, we quickly turned a three-day classroom session for federal contracting officers into a three-day VILT course—complete with breakout rooms and polling questions—that also includes self-paced learning and webinars.
Making the transition
Regardless of the platform, you can deliver quality instruction in a virtual environment.
Will it look the same as your in-person training? No. Will it contain all the same activities? Probably not. However, with some creative thinking and thoughtful planning, you can provide effective virtual learning solutions.
Encourage participants to use the online chat to ask or answer questions. And use their responses to craft how you teach—or come up with follow-up questions based on the responses.
1. Increase the number of activities. Hopefully, your classroom training was already interactive. However, it's even more challenging to keep students' attention in a virtual world. If you're using a slide deck, get student feedback or engagement every three to five slides in an online chat.
2. Adapt your in-person instructor-led activities. Allocate the instructional time differently. Rethink the activities and interactions themselves and how you use them, to keep your audience engaged.
For example, in transitioning the Digital IT Acquisition Professional Certification Program, we identified group activities in the in-person training and transitioned them to breakout rooms with access to a virtual whiteboard. And we replaced some of the lecture with polling questions.
Whatever tools work for your application, you should:
Provide time for students to independently complete activities. It's okay to take a break so students can work. Or have them watch a video and set time to discuss it as a group. (If your virtual software includes a chat feature, let students comment as they're watching. Those comments are great starting points when you reconvene as a group.)
Create job aids with step-by-step instructions for instructor-led demonstrations. It will help students complete tasks successfully—and provide them with a reference after the training is complete.
If applicable, enlist a guest speaker to speak for a short block or to answer chat questions on a pertinent topic.
In the Office for Bombing Prevention virtual trainings, we used polls, chats, and group discussions. And embedded activities and videos every three to five minutes throughout the course.
3. Leverage the features of your virtual classroom platform. Most include the opportunities for chats, discussions, breakout rooms, application sharing, and whiteboards.
Ask discussion questions that learners respond to in an online chat.
Use polling questions to informally assess how well they're grasping the content.
Have students use emoticons to indicate their status.
Use breakout rooms to set up different exercises. For example, divide participants by expertise and have them work on activities aligned with their specific backgrounds.
Use application sharing if you're teaching software skills. Ask a participant to interact with the software while other participants observe and provide feedback.
Use the whiteboard to encourage collaboration, inviting participants to write their own ideas on it.
4. Plan! Plan! Plan! Just as you test your equipment, prepare your classroom, and organize your materials for an instructor-led training, plan and test your virtual training. Features such as breakout rooms, quizzes, and polling are great additions to the learner experience, but if you can't confidently navigate the software, your training will suffer.
Conduct a dry run. Enlist a peer to be your student, then have them connect to the class and complete the activities. This will help you identify any issues with the technology interface.
Have someone manage the chat (if you use) for you. (A co-facilitator is a great option.) This will limit your distractions while you instruct.
Pace yourself. Clearly identify how much time to spend on each activity and discussion, etc. Be sure to factor in breaks, just as you would for an in-person learning event.
This may feel overwhelming. Take comfort in knowing we're all in this together. Let us know how these tips work for you—and if you have others to share, based on your new experiences.
Learn more about ICF's Workforce Performance and Engagement solutions.