WEBINAR: How Duke Energy is building climate resilience
How can utilities prepare for the physical impacts of climate change? Join the ICF Climate Center for a discussion with Duke Energy on October 10.
Transitioning to sustainable transportation at Barra Airport
Advising Scotland's Barra Airport on how to implement a more environmentally friendly facility through use of e-bikes, EVs, and other sustainable transportation technologies.
Summary
In October 2020, the Airfield Development Advisory Fund (ADAF) began operating to support the development of future airfields. This fund is managed by the Civil Aviation Authority and administered by ICF. ADAF allows UK airfields and associated business to apply and seek professional and business advice on a variety of themes, including environmentally friendly technologies. To be eligible, the airport needs to handle, on average, less than 200,000 terminal passengers per year. The first round of applications closed on December 3rd, 2020.
Challenge
Barra Airport—the only airport in the world where scheduled flights land on the beach—applied to ADAF. Located in the wide shallow bay of Traigh Mhòr at the northern tip of Scotland's Island of Barra, the airport sits on a Site of Special Scientific Interest. With a population of around 1,300, tourism accounts for more than 15% of economic activity on the island. Before the pandemic, the island welcomed around 22,000 tourists per year. The existing airport terminal building often had more visitors than passengers, many visiting to have the unique experience of watching Twin Otter planes land on the beach.

The airport had a plan to enhance the impact of tourism in Barras' economy and provide a modern and environmentally friendly space to meet both passenger and visitor needs. Barra Airport also wanted to explore the introduction of facilities that reflect their commitment to sustainable transportation. Their plan included exploring the deployment of an electric bicycles (e-bike) fleet that would be available to tourists to rent and explore the island. Another part of the plan focused on electric vehicles (EV), including installation of charging facilities and exploring the introduction of an EV fleet available for visitors to hire. As their institutional knowledge on these topics was limited, Barra Airport turned to us and the ADAF to seek guidance and strategic advice.
Related services and industries
Solution
Our team interviewed the Barra Airport stakeholders to understand their needs and provide clear answers to their questions. Following the interview, we created a Handbook that provides an overview of the different e-bike and EV charging technologies available in the market. We also offered advice on factors to consider when seeking to purchase and install such facilities to support the airport's journey to a green future.
The Handbook provides information on factors, standards, and specifications to consider when installing charging stations, along with more details on the relationship between battery capacity and range, charge speed, and charger types. It introduces smart solutions like load management schemes and the potential integration with renewable energy resources, such as implementing solar photovoltaic (PV) and battery storage in parking spaces. The Handbook also includes a list of funding options and key stakeholders involved in the planning and development of EV charging stations.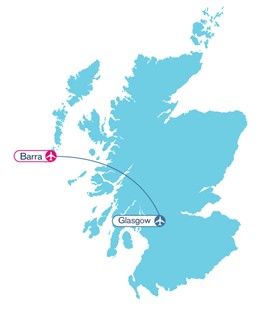 Barra operates twice daily scheduled flights to and from Glasgow
Results
Barra Airport now has a holistic overview of the most important aspects to consider when transitioning to cleaner and more sustainable transportation, from the technologies available to the steps required for implementation. The Handbook is a practical guide the airport can follow during refurbishment, and it sets the stage for a more environmentally friendly facility that celebrates and showcases sustainable transportation.