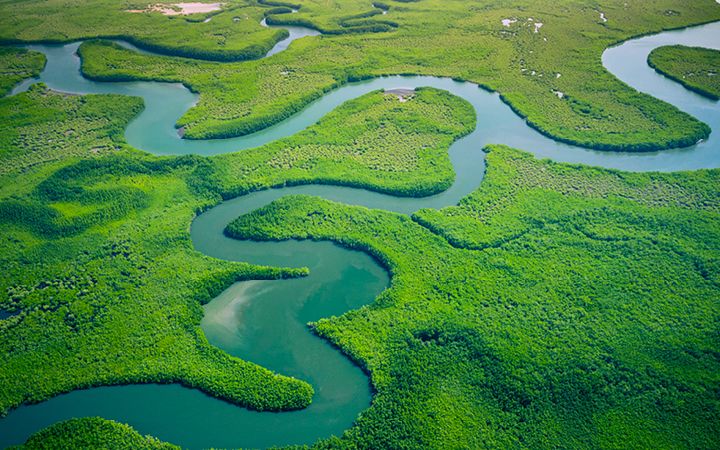 Sign up to receive exclusive Climate insights
Sign up to receive exclusive Climate insights
Sign up to receive exclusive Climate insights
Want to hear more from our experts? Get the Climate newsletter.
Want to hear more from our experts? Get the Climate newsletter.
Want to hear more from our experts? Get the Climate newsletter.
Subscribe now
Climate-resilient planning for local infrastructure
A Resource Guide to support local government Departments of Public Works and Departments of Transportation on infrastructure management—to build a more resilient community.
Climate change threatens to upend many of the core assumptions that local governments rely on to plan, design, and operate infrastructure—and to ultimately provide services to their communities. We developed a Climate Change Resource Guide to help local public works and transportation departments in the Baltimore region develop a shared understanding of expected changes in climate, impacts on infrastructure services, and options available under a changing climate.
Challenge
The
Baltimore Metropolitan Council
recognized that local public works and transportation departments across the region are already experiencing impacts from a changing climate—including increased maintenance, damage to infrastructure, operational impacts, and rising costs. At the same time, local governments can feel overwhelmed by the challenge of adapting to these changes, and not know where or how to start.
For example, as the chart below shows, the number of hot days in the Baltimore region will increase significantly toward the end of the century. Extreme heat can cause roads to buckle, rails to expand, and other serious impacts to local infrastructure.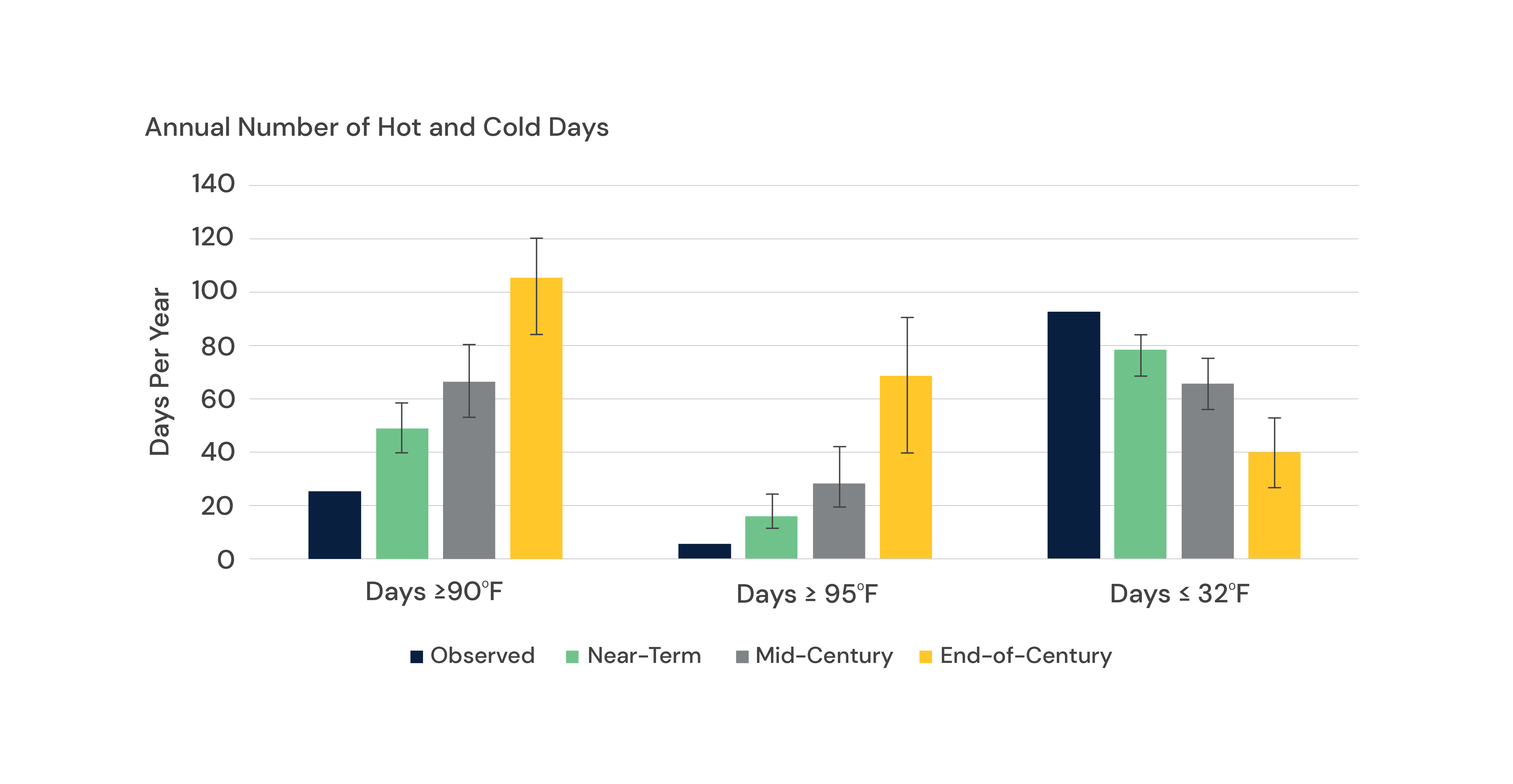 Related services and industries
Our team focused on infrastructure service areas that local governments play a role in managing: transportation, stormwater, water, wastewater, facilities, and solid waste. Through interviews with eight local jurisdictions and a state department, as well as cross-jurisdictional steering committee meetings, we identified local climate planning needs that could be addressed consistently at a regional level.
We developed a practical, user-friendly, one-stop Resource Guide for local infrastructure adaptation planning. The guide:
Synthesizes projected climate data for the Baltimore region—including temperature, precipitation, sea level rise, coastal storms, and extreme weather—to provide regional and local projections using common assumptions about the future
Documents the direct and indirect impacts of climate change on local public works and transportation departments to raise awareness of future impacts
Identifies relevant regulations related to climate change that affect local governments' day-to-day decision-making
Describes the range of adaptation options to address the impacts within infrastructure planning, design, construction, maintenance, and operations, and provides examples from other localities to help guide implementation
Identifies funding opportunities for local adaptation options, a crucial piece for implementation
The Resource Guide provides an overview of the key climate concerns—and solutions—to help local governments quickly identify how they can prepare for a changing climate. Additionally, we developed a toolkit that helps users apply the knowledge from the Resource Guide to their own circumstances and identify actionable strategies and next steps.
6
state policies relevant to climate-related planning and management for local public works and transportation departments
22
illustrative adaptation strategies to address the multiple infrastructure service areas and climate hazards
16
federal funding sources to support local adaptation
The Baltimore Metropolitan Council is working with local public works and transportation departments in the region to operationalize the Resource Guide. The guide will allow public works and transportation departments in the Baltimore region and beyond to efficiently identify strategies that can increase their resilience to climate change—ranging from modifying projects within capital improvement programs to factoring climate projections into infrastructure planning.
The Baltimore Metropolitan Council is also exploring strategies to institutionalize ongoing interjurisdictional coordination to strengthen resilience throughout the region.
New climate data reveals warmer, wetter future for the U.S.
In this report, our climate scientists project some Americans could experience 42-61 additional days with temperatures above 95 F by midcentury.