WEBINAR: How Duke Energy is building climate resilience
How can utilities prepare for the physical impacts of climate change? Join the ICF Climate Center for a discussion with Duke Energy on October 10.
As utilities investigate what the new energy ecosystem could look like, it's clear that embracing a "customer as partner" mindset is critical to meeting changing customer expectations and serving all customers equitably. Building a true partnership requires not only understanding who utility customers are, both today and in the future, but also what they value from their energy service and their utility.
The process isn't as straightforward as it may sound. Utility leaders and pilot program managers recognize the dynamic nature of customer priorities and preferences, both of which are influenced by a range of factors: the choices and tradeoffs that customers are often forced to make (sustainability, affordability, convenience, etc.); the incentives and nudges they receive; and the quality of interactions and experiences with the utility that define perceptions of the utility.
Build effective utility-customer partnerships
Given this rapidly evolving energy landscape, we're working with utilities across the country to develop a deeper understanding of their customers and to apply these insights in ways that build stronger customer partnerships and meet utility and grid needs.
Our experience has clearly shown that well-targeted utility investments in customer insights are essential for establishing empathy, developing utility-customer partnerships, and enhancing program outcomes. Establishing high-quality customer insights requires a multi-pronged approach, including:
Customer-centric research: Learning from the customer. Many types of primary research can be used to help develop critical customer insights, using both quantitative (survey, experimental designs, descriptive research) and qualitative (focus groups, interviews, ethnographic research) methods. Customer research often runs the gamut from quick and agile feedback from a small sample of customers to more representative studies that gather data from a larger set of customers or research focused on the customer experience over time. Gathering information directly from customers is an effective way of integrating the customer perspective and voice of the customer.
Advanced data analytics: Understanding customers by the numbers. We apply advanced data analytics to a vast array of information resources to develop a clearer picture of utility customers throughout the service territory. The picture provides insights into who customers are and how they behave using a combination of data sources such as public records, housing data, demographic information, consumer segmentation data, energy use information, utility program participation, and web-based data and information gathered directly from customers. Our Sightline Analytics Platform integrates the data into a single framework and harnesses it to develop advanced customer segmentation, predictive modeling, geospatial analytics, data visualization, and target profiling.
Behavioral science: Applying levers of influence. By integrating and applying core social and behavioral science principles, we use insights from the fields of sociology, psychology, and behavioral economics to enhance program design and outreach strategies to better guide customer choices and behaviors. As part of this process, our behavioral scientists identify opportunities to better align program design elements and program materials with typical patterns of thinking and decision making. The process has proven effective at addressing the cognitive biases that often impede program performance. These strategies rely on a combination of choice architecture and behavioral nudges, such as social norms, commitments, and goal setting, as a means of enhancing customer knowledge, improving customer decision making, and shifting customer behaviors.
The combination of these three approaches provides an effective, multi-pronged approach for developing a unique set of customer insights and strategies to improve program participation and program outcomes, build utility-customer partnerships, and meet the challenges of the new energy ecosystem. In the following section, I will share some examples of how customer-centric research has played a critical role in improving program enrollment, revealing program participation barriers, and rethinking program strategy.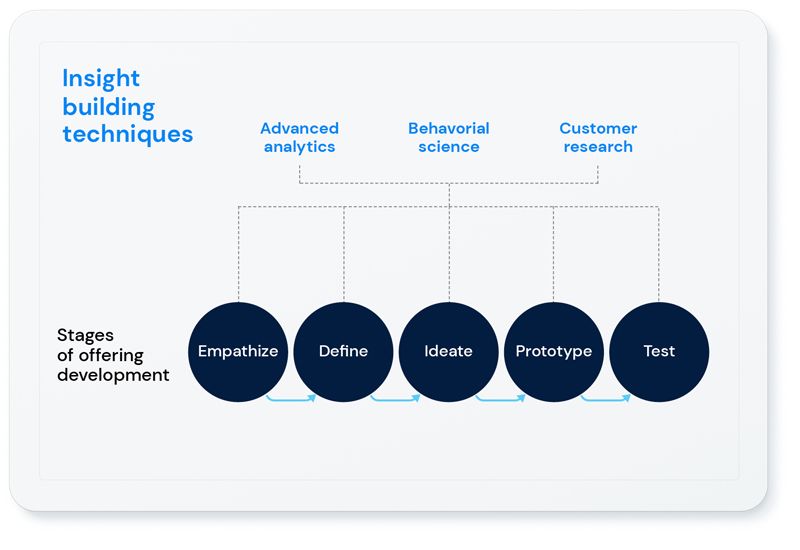 The focus group research provided valuable insights.
For example, we learned that when customers were considering whether to enroll, they were most influenced by the potential cost-savings and the free smart thermostat and were less influenced by the program's potential environmental benefits or improved grid reliability.
Takeaways from our work with leading utilities
Customer research often provides the most direct and immediate way to learn from customers in order to better connect, serve, and communicate with them. As described in more detail below, our recent work implementing customer research for new pilots and programs with utilities in the mid-Atlantic, Northeast, and Midwest provides useful evidence of the positive impact engaging in primary research can have.
How focus group insights helped us exceed enrollment goals
What can you do to ensure that your innovative new program appeals to your customers and achieves or exceeds desired levels of enrollment? A good first step generally involves having a conversation with customers and gathering feedback before the program even launches. We recently employed this approach to gather customer insights and perspectives on a new utility rate pilot. To ensure adequate enrollment on the new rate pilot, we worked with the utility to plan and coordinate upfront qualitative research to better understand the value customers saw in this offering and how they reacted to recruitment messaging. To accomplish this, we held five 90-minute focus groups with 38 customers. In these focus groups, customers viewed and reacted to program descriptions, value proposition statements, creative direction concepts, and infographics.
We also found that customers were confused by the initial set of detailed graphics that were developed to show how customer load patterns were tied to price variations. Instead, they wanted to see details about the rate structure, such as when and how long peak events would last, as well as custom information showing the bill impact of the new rate for their home. Creatively, customers responded best to messages and imagery that are straightforward in highlighting the program's features that they valued.
These customer insights were used to inform our creative approach and the development of outreach materials that emphasized the technology offer, the potential to save energy on the plan, and the one-year bill protection. We also provided layered information on the webpage and enrollment portal, with detailed information about the rate and peak events for customers seeking more information. The payoff for this effort came in our ability to overcome a set of difficult recruitment challenges, allowing us to exceed program enrollment goals and launch the new rate in 2021.
How qualitative customer interviews resolved hidden participation barriers
The reasons for low program enrollment are often a bit of a mystery, and efforts to determine the cause can be frustrating. Qualitative customer research is a great way to learn more about the challenges that keep customers from participating. We used this approach recently in our work with a Midwest utility that was experiencing low enrollment in its renewable energy program. We worked with the utility to field a set of in-depth interviews and conduct user research with a mix of customers—both enrolled and unenrolled.
The user research allowed us to improve our outreach efforts by identifying opportunities to better position and rename the "call to action" links, move the most compelling customer messages to the top of the page, and eliminate the need for customers to log in to their account before they could view pricing information.
Through the interviews, we learned that messaging needs to be tailored to each customer segment to deliver targeted messages based on customer motivations, understanding of renewable energy, and expectations around return on investment. Findings from the customer research provided useful direction for the program team to make and test improvements before deploying enhancements to the program and resulted in a dramatic increase in participation levels.
How survey research allowed us to test assumptions and reshape our strategy
All programs are based on a set of assumptions about the types of customers who are likely to participate and their motivations for participation. However, when those foundational assumptions are wrong, they can wreak havoc on program outcomes. Quantitative research provides a means of testing key underlying assumptions, and the results are often surprising.
In a recent opt-in, time-of-use rate pilot, peak period energy savings were much lower than expected, raising questions about the types of customers who had enrolled, the types of load-shifting behaviors they were engaging in, and whether the savings trends were likely to be generalizable. To answer these questions, we fielded more than 1,000 customer surveys to gather more information about household characteristics, customer motivations for enrolling, and their behaviors on the rate.
Given that the pilot had been designed to allow customers to opt-into the rate, a key assumption was that customers with higher-than-average electricity consumption (i.e., those with the most to benefit) would be those most likely to enroll in the pilot. An initial review of baseline energy use data quickly proved that assumption to be false, raising the question of why households with low energy consumption were opting into the rate. The survey research allowed us to ask customers about their motivations to enroll.
The results were surprising
Two motivations rose to the top. Enrollees tended to have high levels of concern about energy efficiency and the environment, or they were interested in the near-real-time energy use data that they would have access to by enrolling. Those with high levels of environmental concern enrolled even though those same concerns had already led them to maximize their energy efficiency before enrolling. Their low levels of energy demand at the time of enrollment meant that there was little opportunity for shifting during peak periods. Similarly, the tech-savvy customers had enrolled to have more access to their energy data and were not all that interested in shifting their peak period consumption, because they didn't find potential bill savings to be sufficient to get them to change their behaviors.
For those customers who had changed their behaviors, the survey gathered information about the actions they were taking. The results showed that customers were most likely to shift their use of washers, dryers, and dishwashers. Only about a third of customers reduced their use of air conditioning during peak periods, and of those who did, the average change in thermostat settings was only one degree.
Overall, the findings revealed that participants did not represent the types of customers that were expected to enroll and that the results of the early stages of the pilot were unlikely to be representative of either a more mature program or a default time-of-use rate. The survey findings provided insights on the reasons that customers were enrolling and the actions that they were taking. These insights allowed us to refine our communications strategies and message content to emphasize the things that customers valued most and encourage the most impactful behaviors.
Connect with customers through empathy and understanding
As utility business models continue to evolve, customer research has the power to critically build the bridge between utility offerings and customer values, preferences, and interests.
We're helping utilities across the country implement research that shapes how, when, and what we communicate with customers about these emerging products and programs. In turn, utility and energy brands are strengthening and building new connections between consumers and their brand.
Discover how ICF's utility customer insights and incentives experts use quantitative tools and applied science to help utilities build effective partnerships with customers and improve program performance.