WEBINAR: How Duke Energy is building climate resilience
How can utilities prepare for the physical impacts of climate change? Join the ICF Climate Center for a discussion with Duke Energy on October 10.
Former ICFer returns as strategic advisor on issues facing the utility industry
After several years leading strategy and policy for Exelon Utilities, Val Jensen has returned home, to ICF.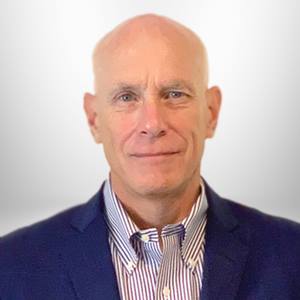 Now a strategic advisor, Val is helping evolve the services and capabilities we offer utilities, particularly in the areas where many are struggling to find solutions: building operational resilience, better managing energy efficiency and distributed energy resource programs, and improving customer engagement and developing innovative rate and regulatory strategies.
Phil Mihlmester, ICF executive vice president for global energy, spoke with Val about his journey and what he brings back to ICF.
Phil: This is your third run with us. Can you tell us a bit about your journey and how you got back here?
Val: My first run with ICF was from 1992-ish through 1994 as a project manager in the DC office. I primarily supported EPA ENERGY STAR® and climate policy. I left in 1994 to join DOE's Office of Energy Efficiency and Renewable Energy, which took me to Chicago to run their regional office for four years. Run number two started in 2000 in Chicago, where I was assigned to build ICF's energy efficiency business in the then less-than-fertile Midwest. In 2001, I was dispatched to San Francisco to help grow ICF's Energy business and manage our San Francisco office. I specialized in the design and management of energy efficiency programs for numerous clients—Commonwealth Edison (ComEd), WE Energies, Wisconsin Public Service, Nevada Power, Ameren, and PG&E, to name a few.
"We are on the front end of an era that will render the industry into something very different from what it looks like today."
In 2008, having helped ComEd develop its first energy efficiency plan in response to a new legislative mandate, I was offered the chance to go inside the utility and build its new energy efficiency group. The vague plan in my head was to spend a couple of years commuting to Chicago and then return to San Francisco and ICF. A couple of years turned into 12, as I was first offered the chance to run ComEd's 1,500-person customer operations group and then to lead strategy development for ComEd and then all of the Exelon utilities. Late last year, I decided my "couple of years" was up and I headed home to California. It was then my good fortune that you called and suggested that my employee ID number was sitting unused. For a variety of reasons, it made sense to me to come back…again.
Phil: That's quite a journey! How can you use these experiences to help us help utilities prepare for the future?
Val: Honestly, one of the reasons I wanted to take the ComEd position was a desire to see what the world looked like from inside the industry. I had worked with, on behalf of, and against utilities for my entire career, but remained a little mystified as to what really drove their actions and positions. I think the decade+ I spent inside has given me insight into behavior and decision-making that hopefully I can pass along to my ICF colleagues. I've also had the chance to watch and work with a variety of consulting firms as a buyer of services. While every buyer and every job are different, I think I've also gained some insight into how other firms approach the sector and what seems to work. I remember several times, as we discussed a consultant for one thing or another, I would wonder to myself how ICF would stack up and why the firm generally was not on the radar for certain types of work that I'm pretty sure you could have done. I'm hoping some of that insight will serve valuable in my new position.
Phil: I'll add that our expertise in energy efficiency, distributed energy resources, electrification, and customer engagement, coupled with your detailed knowledge of utility business and regulatory models, are the perfect complement.
Val: I agree! We also bring something very unique: a long history and deep energy expertise combined with innovative ideas and capabilities that help utilities navigate unprecedented industry change. We are, at a minimum, on the front end of an era that will render the industry into something very different from what it looks like today. As critical infrastructure providers, utilities are facing more events that impact their systems – increasing intensity of major storms, cyber attacks, COVID-19 and its effect on the supply chain and workforce, government policy changes – all while continuing to deliver on rising customer expectations. Utilities will succeed only when they approach their futures deliberately—something that requires analytics and a deep understanding of how the industry actually works. Both of which ICF has.
Phil: We're very excited to welcome you back to ICF Val! Any closing thoughts?
Val: Two things. First, it's really gratifying to return to a company that has been responsible for so much of my career (in a good way) and that remains so mission driven. One very big distinction between ICF and other firms with which I've worked is this sense of mission. This isn't newly discovered as is the case for a lot of the competition. It's in ICF's DNA. Second, maybe the reason I keep coming back is because so many others stay. ICF has done something a little remarkable in that it continues to attract smart young talent at the same time it has retained so many exceptional people who have done so much to affect so many. For lots of reasons, this really is the right place to be.