Our CEO John Wasson shares how our new corporate headquarters is symbolic of where we've been—and where we're going
Thirty-five years. That's how long ICF was based in Fairfax, Virginia. We were there through some pivotal moments in our long company history: We went public. Became the first professional services firm in the world to achieve net carbon neutrality. Reached $1 billion in annual revenue. And transformed our offerings and capabilities to become more technology forward.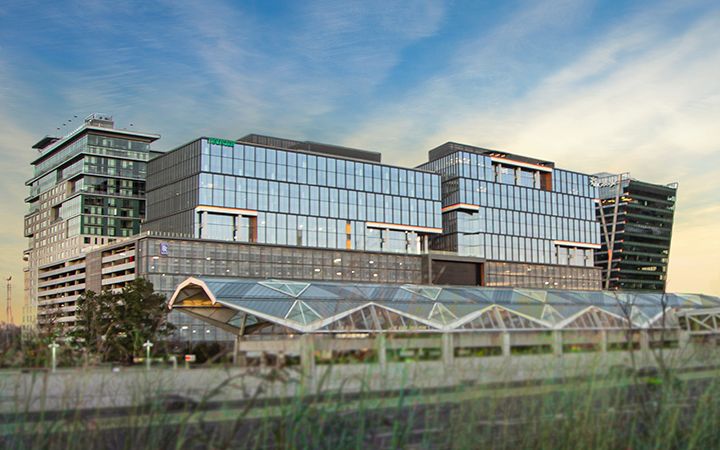 As ICF has evolved, so have our needs. We're now a global advisory and technology services provider. Our headquarters should reflect our dedication to innovation, unmatched expertise, and cutting-edge engagement capabilities. A place that shows we understand the complex challenges of today and offer the right solutions. And that we're ready to help our clients navigate change and shape the future.
It might seem surprising that we opened a new corporate office in late 2022. After all, how and where we work has been meaningfully shaped by the pandemic. But our new global headquarters in Reston, Virginia—in the heart of the East Coast tech corridor—was designed with new ways of working and collaborating in mind.
In a podcast interview with Washington Technology, our CEO John Wasson shares how our new HQ is part of our post-pandemic workforce strategy. With most of us now working hybrid schedules—some days in the office, some days remote—we needed a space that offers a more flexible working environment but also collaborative spaces so we can sustain our relationships and culture. One of our company values is "work together" and while we've mastered the art of virtual meetings, we find that some of our interactions are just better in person.
Space designed for collaboration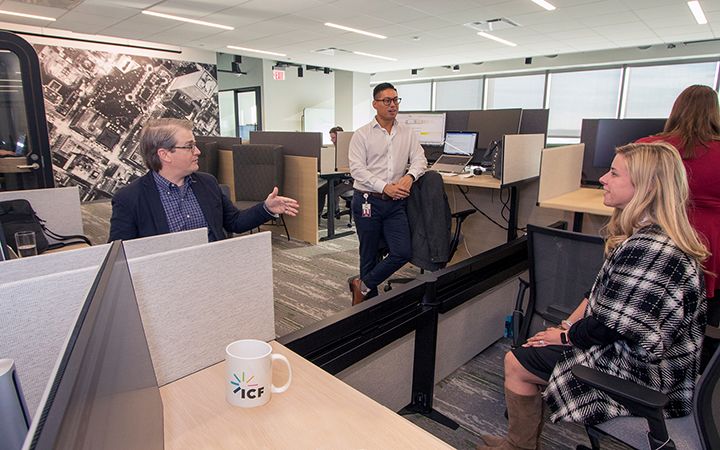 Within our new headquarters, each floor offers different styles of spaces: from traditional workspaces and conference rooms to smaller drop-in "huddle rooms" to casual work areas with plush seats and inspiring views. When we need quiet, we have dedicated distraction-free spaces. And when we need privacy, we have enclosed soundproof booths and rooms.
In his interview, John notes that our headquarters is not just a place to work and collaborate. We specifically chose Reston Station for the amenities. We are steps away from restaurants and retail. We have access to a state-of-the-art fitness center and the nearby W&OD biking and walking trail. Our rooftop terrace, outdoor "sky garden," and café areas on every floor provide the perfect gathering spots.
Continued focus on sustainability
We also chose Reston Station for its proximity to public transportation. Continuing our decades-long commitment to
environmental sustainability
, our global headquarters is directly accessible by rail and bus. We're two minutes from a trail that connects Washington, D.C., to Northern Virginia, with secure indoor bike storage onsite. And we've taken the steps to ensure our building will be both LEED and ENERGY STAR
®
certified.
And we're just getting started
As John talks about in the podcast, growth remains the name of the game. Our financial performance and business development pipeline are robust. Our collective, strong sense of culture and values have never been more apparent. The commitment and passion our teams show our clients, partners, and each other are nothing short of extraordinary.
Over the last few years, we've discovered new strengths, delivered incredible work, and grew as a company. We continue to see momentum in areas where we bring value—from digital modernization and public health to utility consulting to disaster management and climate, environment, and infrastructure work. And we've seen exciting results as we strengthen our domain + technology chops, helping to address the digital modernization needs of organizations with missions that greatly impact society.
"To continue to grow and deepen our impact through our work, we've invested in technology, digital engagement, program management, and change management as we successfully provide both advisory and implementation services to our clients."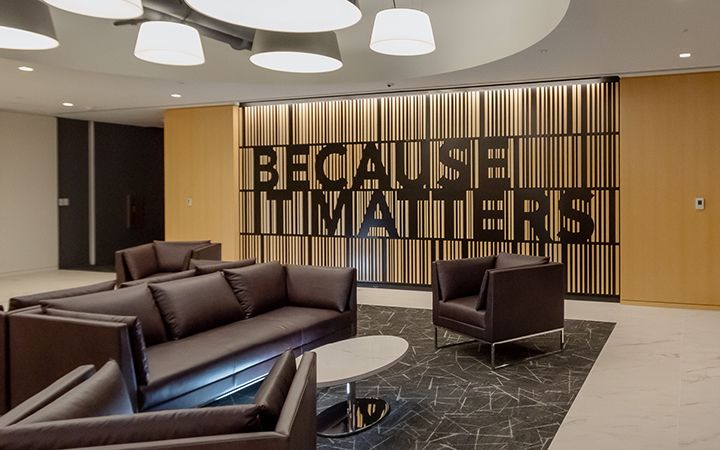 As we enjoy our new headquarters, we remain proud of our unique culture and mission-driven approach. Take a tour and see how our new space reflects the needs of our diverse workforce, our strong values-driven orientation, our passion for high-impact work, and our "walk-the walk" approach to sustainability. Why do we do it? Simply put, because it matters.
Proud member of the Northern Virginia tech community