Meet some inspirational ICF employees who've turned hobbies into help to support those on the COVID-19 frontlines
Stress. Fear. Confusion. Inspiration. Hope. Relief. As the world navigates the novel coronavirus, we're in the midst of an emotional paradox. These ICF employees, however, have joined thousands of others who have learned the best way to stay hopeful is to be helpful.
Since 2012, Melissa has sewn bibs, blankets, and baby clothes using leftover fabrics to limit her environmental impact. When Brussels requested volunteers to help sew masks for hospitals facing the COVID-19 crisis, it seemed a natural transition.
Sew perfect
Melissa Diaz Paniagua, Penelope Kellar, and Traci Creller work in different parts of ICF. Brussels-based Melissa is part of our ICF Next team, managing large-scale events across the European Union for the European Commission. Penelope is a technical editor who makes sure deliverables are clean and succinct for our environment client projects. And telecommuter Traci is part of our survey research team, managing state and national public health studies. (As an experienced "remote employee," she's also helped her teammates navigate this new workstyle based in physical distancing.)
But they have one thing in common: A love of sewing. So, that's exactly what they did. "I started making masks for some friends," says Penelope. She's now also making them for hospice personnel as well as their visitors and clients. Traci literally answered the call of a trauma nurse. "A friend of mine works in the ER, and she told me they were running out of disposable masks." Traci is still sewing masks for the local hospital as well as nursing homes and a Veterans Affairs facility in Louisiana. With no hint of slowing down. "Some of the fabric is a little Christmassy," she admits, "but I don't think anyone will mind!"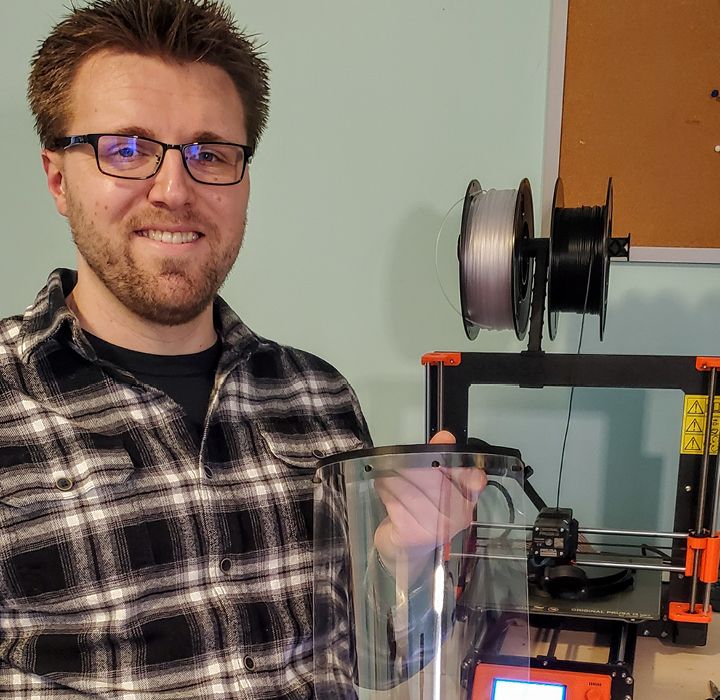 Project shields
Other ICF employees are putting to work their personal 3D printers. No longer just for art projects or other hobbies, these machines are now cranking out face shields for doctors across the U.S.
Alec Danaher, a project manager on ICF's commercial energy team, is a tech savvy guy. "I'm working on an Energy Voice solution for clients—basically an Alexa app for utilities." Just as COVID-19 was on the cusp of becoming a full-fledged pandemic, he read a blog post on a face shield design for medical professionals. "I figured there would be a need for this kind of thing very soon." So, after a trial run, Alec spent a weekend making face shields for a doctor at a local hospital that was seeing a surge in COVID-19 patients. Each weekend since then, he's made and delivered dozens more.
More importantly, the shields have received high praise from ER doctors and nurses nationwide.
Showing the distance
Then there's Dave Goodman, a design engineer who needed to help his son understand physical distancing. Dave develops Augmented Reality (AR)/Virtual Reality (VR) training modules for U.S. government clients. So, "I made a VR app today to show him in spatial context," he explains. The app displays the distance between each person as the user gazes from avatar to avatar. "And the notification turns red if the player is at an unsafe distance."
Doers and givers
Of course, that's not all. Alongside those ICF employees who use their skills (and newly found free time) to create much-needed supplies are likeminded colleagues applying different talents to help in another way. Organizing fundraisers to feed the homeless and expand community programs like Martha's Table. Selling crafts to raise money for COVID relief charities. And providing resources to keep kids (and pets!) thriving in this difficult time.
If nothing else, this crisis shows how ICF's values come naturally—not just to ICF employees, but to the world. And there's a whole lot of hope in that.