Support for the Pardada Pardadi Education Society brings hope and compassion to help women and girls develop economically and socially
But for our
India team
, led by
Gurpreet Chugh
, the empowerment of women and girls in rural India has always been part of their
corporate social responsibility
. And with a lead provided by senior corporate paralegal Ena Murphy in 2018, India contract lead Vivek Malhotra took the initiative to put this into action.
"I'm passionate about teaching underprivileged girls to become independent, intelligent, strong women."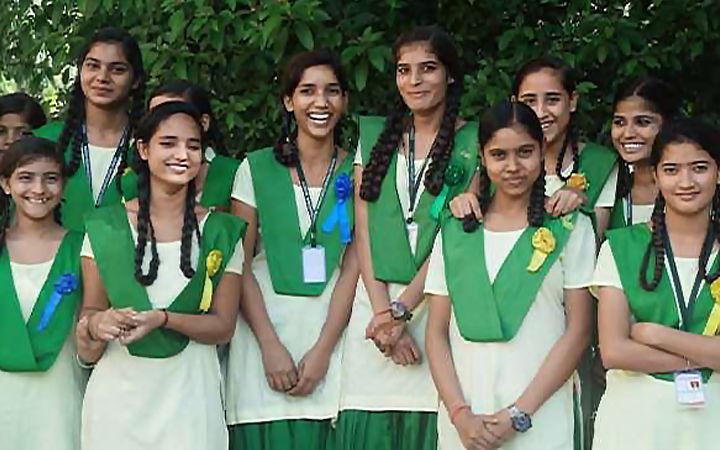 Ena and her family are long-time supporters of the Pardada Pardadi Education Society (PPES), which provides free education, job opportunities, healthcare, and more for girls and women in Western Uttar Pradesh, India—where 51% of girls enrolled in school drop out before completing 8th grade.
The 120 villages that surround PPES are primarily dependent on subsistence farming. Many of the people are daily wage laborers, migrant labors, or elderly and single women, and 80% of the population is below the poverty line.
In 2019, ICF in India was evaluating different options and entities to support for its corporate social responsibility initiatives, led by Vivek. He was searching for an organization whose values aligned with ICF's, and was reminded of PPES and its work. He reached out to them, then after hearing their story and purpose, he knew his search had come to an end.
"Give her a pen and she will write her bright future. Give her that one opportunity and she will make the world a better place to live. That's the power a girl child possesses."
Through Vivek's lead and due diligence, we donated US$30k in our first two years of support. These funds covered the complete education plus other services for 65 girls for the entire two-year period.
When COVID-19 caused most of the community to lose their livelihoods, PPES stepped up to provide help with food supplies, medical attention, domestic violence resources, income-generating opportunities, and relief assistance. ICF's donation helped pay for some of this assistance including food and ration kits, reusable masks, clothing, and electronic gadgets so education could continue despite the pandemic.
"A heartfelt thanks to ICF for your guidance and support, which not only transformed the lives of rural girls in Anupshahr, but also created a revolution which will inspire the generations to come."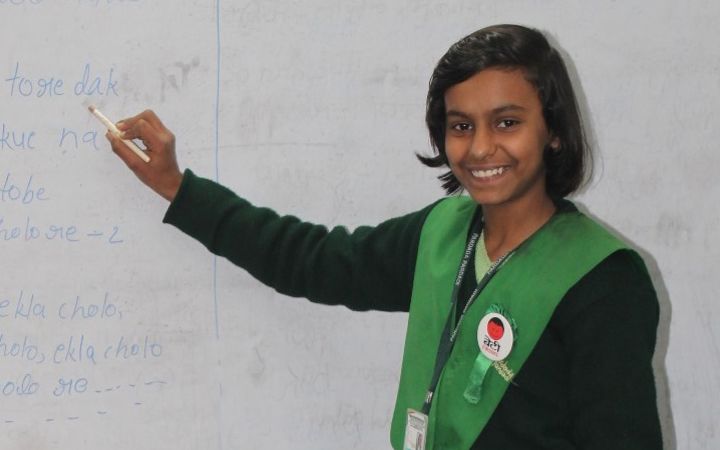 We're continuing our support to sustain PPES' important mission. Our 2020 donation of US$21K supported the purchase of tablets and uniforms for the senior class and covered meals for all students for the entire year. In 2021, we contributed US$20K which provided additional tablets, books, and uniforms for secondary students; supported the construction of an indoor play area for primary students; and provided HPV vaccinations to 65 senior girls to protect them against cervical cancer, the most common cancer for women in rural India.
Our 2022 contributions of US$22K provided HPV vaccinations to an additional 163 girls, purchased reverse osmosis water coolers to ensure the availability of clean water, and secured sports equipment for fun and exercise.
In total, our US$93K in donations have touched the lives of more than 300 girls and their families.
It's always Vivek's desire to make a positive difference in people's lives. He shares, "In my faith, giving ample resources to one makes that individual the messenger for sharing those resources with the needy and removing disparities." Which also aligns with ICF's purpose of building a more prosperous and resilient world for all.
Sadly, we lost Renuka in 2021 to COVID-19. She left an indelible mark in our hearts and on the entire PPES community. Renuka dedicated her life to serving others and for the betterment of the society. For the last two decades she was at the helm of PPES guiding them throughout. It cannot be overstated or put into words the impact that Renuka had on this world and how many lives she touched.
As she once reflected, "The PPES journey started with a belief but soon became a passion that changed lives, broke centuries-old stereotypes, and became the bright light for those whose world was dark."
Learn more about PPES.