Cybersecurity expert prepares the U.S. Air Force to build a more resilient world
Her manager calls Susan Andre "a triple threat of success." If that doesn't describe someone you want on your cybersecurity team, we don't know what does.
Susan leads the ICF effort that supports cyber weapons and tactics for the U.S. Air Force's Air Combat Command and supports offensive and defensive cyber operation mission sets to enable national defense priorities. Not only that, she directs weapons and tactics operations—and she's an active Virginia Air National Guard member supporting a Defensive Cyber Operations (DCO) mission.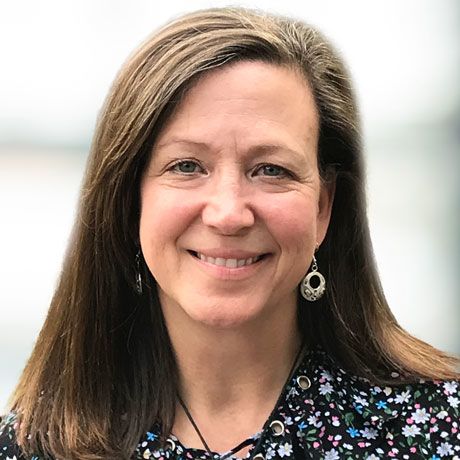 "Supporting this community, its missions, and the passionate people behind it all has been a true privilege. It is, hands down, one of the best positions I've ever filled."
— Susan Andre
Readying the best of the best
Susan supports the cyber weapons community responsible for mission training, exercises, mission planning, readiness, and evaluation scenarios. "Air Combat Command is responsible for organizing, training, and equipping warfighters," she explains. "My team is responsible for developing, documenting, and issuing tactics."
Defend Forward
With November—and the U.S. elections—quickly approaching, another priority is Defend Forward, part of the U.S. Department of Defense (DoD) Cyber Strategy established in 2018. The concept is simple: Work with partner nations to gather valuable insights into malware and adversarial actors to help secure each country's individual systems. The work, of course, is not. Susan's team supports DoD experts working 24/7—experts who've had to set up cots and sleeping bags in a COVID environment to maintain mission readiness.
It's all part of the DoD National Defense Strategy, a road map to navigate the increasingly complex global security environment.
And it's work that touches on each of ICF's values, though Susan most closely identifies with "Bring Your Passion" and "Challenge Assumptions." She has an overwhelming desire to equip warfighters with what they need to perform their duties—especially as nefarious actors stand poised to threaten national security.
Due to the highly sensitive nature of what she does, there's a lot Susan can't share. But she does offer this piece of advice: "Everyone should use multifactor authentication whenever possible. Create long passwords that you can remember without writing them down. Clear your cookies and history every time you close your browser. And pay attention to privacy agreements." You can also take it a step further: "Create an online persona with a unique high school, high school mascot, hometown, first car, and date of birth," she suggests. "No matter which path you take, make every effort to protect your identity and preserve your privacy when online."
Learn more about ICF's threat experts.