Junior-level innovator became senior-level leader by weaving design thinking into our work
"There's so much opportunity here at ICF," says Alex Severin, part of our corporate growth and innovation teams. "If you have an idea, people are always willing to listen." And that's exactly how he changed his career path at ICF.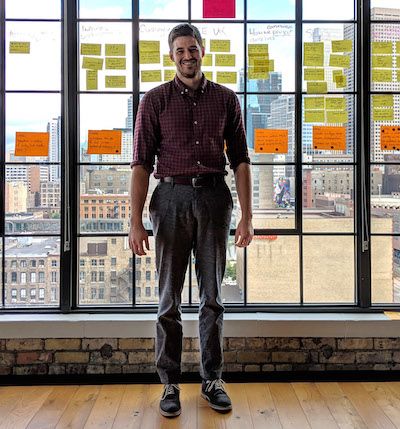 Four years ago, Alex was a junior member of our Aviation team—and on the lookout for opportunities to learn, grow, and evolve. He found the perfect one when he heard ICF wanted to apply Silicon Valley methods to our consulting approach.
Drawing from his interest and previous research on the topic, Alex prepped a 20-slide deck on how he'd implement design thinking at ICF. Then he shared it with Samuel Engel, who leads our U.S. based Aviation portfolio. It landed Alex a critical role in creating Spark Labs, ICF's center for business innovation, even though most of the project's stakeholders were senior leaders.
Sparking innovation in consulting
Based on Google's Design Sprint Toolkit, Spark Labs put a slightly different spin on workshops, challenging participants to center their solutions around the end user. This collaborative initiative brings together ICF experts across industries to solve client—and internal—challenges.
"ICF works in a lot of heavily regulated industries," explains Alex. "Design thinking, and the approach we take, is novel in many of these sectors—like climate and aviation."
Alex is passionate about bringing these practices to the organizations that need it. It led him to graduate school shortly after he joined the Spark Labs team—specifically, an MBA program to examine new processes for business innovation. Job offers from big tech companies awaited him at graduation, but he decided to stay with ICF. Why? To make a greater impact. "We're working on cutting edge projects that are essential to the future of human existence. That's something to be proud of," says Alex.
Evolve and own your career
It's hard for Alex to imagine that one precocious idea got him to where he is today. But that's exactly what happened, and—if he could go back in time—he'd do it again the exact same way. And he'd advise other early career professionals to do the same: "Take the initiative to learn about an emerging technology or process, and you can become an expert in something that can change the course of your career for the better."