Digital modernization report: Top trends shaping government in 2023
From big data to zombie apps to staffing challenges, our latest research reveals opportunities for agency leaders to get ahead. 
Faced with evolving user needs, constant organizational change, and emerging technologies, government agencies must rapidly introduce new tools, capabilities, and systems into their organizations. Our suite of practical tools and change management services, ICF ChangeWorks™, empower government, commercial, and non-profit transformation through process optimization, organizational design, and change implementation that is sustainable and scalable.
Download our Problem Clarification Toolkit.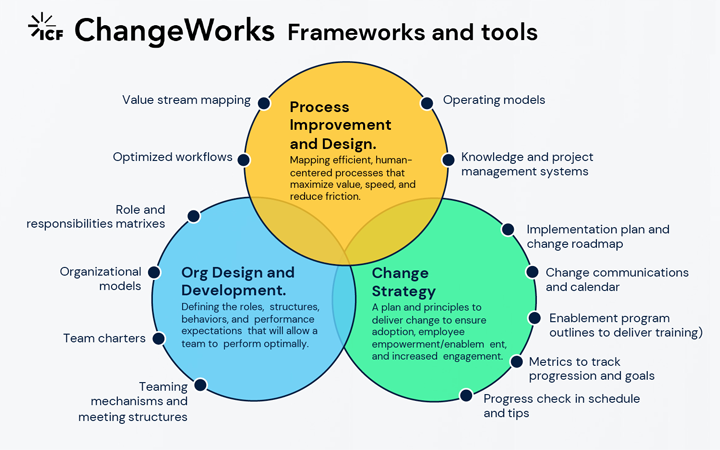 Ensuring organizational effectiveness
We provide organizations with tools and expert change management coaching to support leaders and staff in optimizing their organizations. Our team works through a rigorous, agile process to help link business strategy, group strategy, team-level objectives, and individual motivations. We also leverage human-centered design and collaboration principles to define dynamic and empathetic solutions rooted in both employee experience and team performance.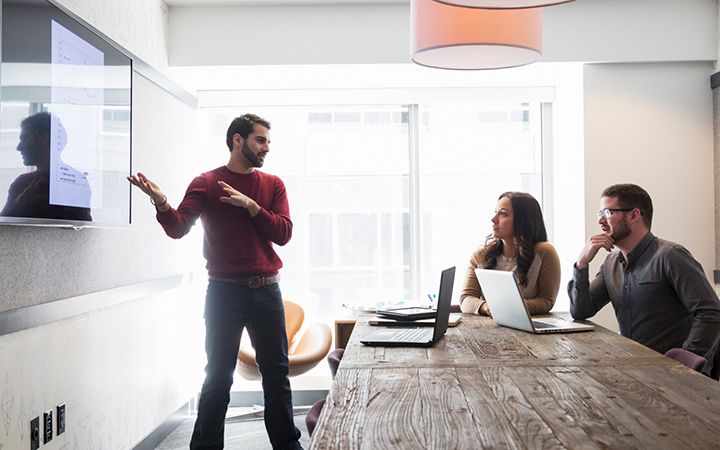 Rapid diagnostics to identify current and future needs
Our change management experts meet government agencies where they're at in order to assess organizational readiness and identify problems, opportunities, and changes. This includes stakeholder analysis and mapping, culture assessments, and comprehensive analysis of roles and responsibilities. Depending on a given situation, we select change management frameworks tailored to specific organizational needs. As part of this, our experts develop solutions that can scale to a project's level of complexity, enterprise impact, and target timelines—from under 3 months to a year and beyond.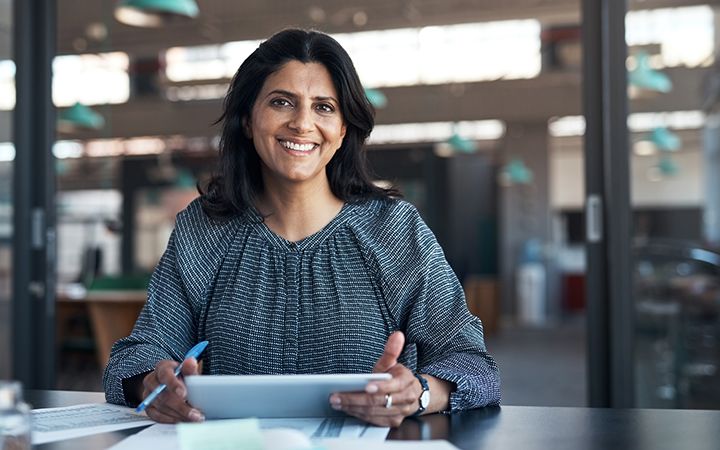 Implementation that increases buy-in
We harness the power of people to develop training and coaching that empowers staff to become change ambassadors. Through capacity building and feedback, implementation involves continuous improvement to improve staff buy-in and client satisfaction. When government employees are prepared, equipped, and supported through change, they are six times more likely to achieve desired objectives, five times more likely to stay on schedule, and twice as likely to remain within budget.
Our services
Rapid diagnostics
Problem identification
Change readiness assessments
Stakeholder analysis and mapping
Culture assessments
Case for change
Roles and responsibilities
Root cause analysis
Transformational design
Visioning
Organization redesign
Process and journey mapping
Facilitation of group buy-in
Prioritization
Strategic communication
Risk planning
Iterative implementation
Governance models
Training
Capacity building
Coaching
Feedback and adoption measures
Change ambassador programs
Continuous improvement
Related industries, services, and solutions