The Airbus A330 has seen its share of ups and downs since its launch in the early 1990s. With the market shifting once again, this is where the aircraft—and its siblings—stand.
With a 25-year production history, the Airbus A330 aircraft has come a long way. Its high gross weight and flexible uses—from regional to long haul and passenger or freight services—has made it a mainstay of the medium widebody market segment.
In this article, we break down the exact state of the Airbus A330 family and how it fits into today's market.
Building the A330 family: Features and manufacturing
The second generation of the Airbus twin-engine aircraft is a medium-to-long-range aircraft offered in two versions. The first is the baseline A330-300, comprising 54% of the in-service fleet, introduced in 1993, and the second is the smaller—but longer-range—A330-200, making up 46% of in-service aircraft and active since 1998.
Freighter variants include both those converted from passenger aircraft and new-build original equipment manufacturer (OEM) freighters, while multi-role tanker transport (MRTT) variants fulfill a military role. A specialist variant, the Airbus Beluga XL has been developed by the OEM to transport oversized aircraft components and will replace the existing five-strong Beluga fleet.
Launched simultaneously with the A340, the A330 has considerable similarities to its four-engine sibling. They share an identical wing, fuselage, and flight deck. Both A330 versions are available with three engine options from Rolls-Royce (Trent 700), General Electric (CF6-80E1), and Pratt & Whitney (PW4000-100).
Due to the high level of overlap between the A330 and A340 families, pilots can transition from one type to the other with minimal training. Also, significant similarities exist between the flight deck of the A330/A340 and A320 family, allowing relatively seamless transition—via cross crew qualification—across the two families.
The fuselage of the A330-200 is shortened by 15 feet relative to the A330-300 but retains the same wingspan (197.8 ft.) as the -300 and A340-300. Initial deliveries of the A330-200 entered service at a maximum takeoff weight (MTOW) of 230 tonnes but, as with the A330-300, MTOW has increased incrementally to 242 tonnes.
Because of its decreased length, the A330-200 features enlarged horizontal and vertical tail surfaces relative to the A330-300. Fuel capacity has also expanded with the addition of an auxiliary center fuel tank.
The A330-200 typically seats 253 passengers in a three-class layout and up to 345 passengers in a high-density configuration. At an MTOW of 238 tonnes, the A330-200 can carry 253 passengers up to 6,650 nm. It is a formidable competitor to the Boeing 767-300ER, which has less range and lower passenger capacity.
Upgrades
The optional MTOW upgrade to 242 tonnes has been available since 2015, along with engine and aerodynamic improvements that reduce the fuel burn of the A330-200 by about 2% while increasing range to 7,250nm with 246 passengers.
Early variants of the A330-300, produced from 1993 through 1998, have MTOWs of 212 to 217 tonnes, and a range profile between 3,900 nm and 4,300 nm. Later variants have introduced gradually increased MTOWs over the intervening years, reaching up to 242 tonnes, with a higher fuel capacity option allowing flights up to 6,100 nm. All A330 aircraft manufactured after MSN 1627 are 242 tonnes-capable and thus better compete with the Boeing 787—offering the capability to transport 277 passengers in a two-class configuration up to 6,100nm with center wing tanks activated.
More recently, Airbus produced a new lower-weight regional variant (~200 tonnes) aircraft optimized for use on domestic and regional routes in high growth markets such as China. This variant was first delivered to Saudi Arabian Airlines in August 2016. Airbus has also launched a re-engined and upgraded A330neo (new engine option) family with the first development aircraft, an A330-900 variant, taking off in 2017 followed by entry into service (EIS) in late 2018. Legacy variants—A330-200 and A330-300—are referred to as the A330ceo (current engine option).
Airbus has provided life extension and residual value support for the A330 with the development in 2012 of a passenger-to-freighter (PTF) conversion program for older aircraft of both variants. Egyptair became the launch customer for the PTF program, with an initial order for two conversions of the carrier's A330-200 aircraft, while DHL ordered four conversions of A330-300. Redeliveries commenced in 2018 and 2017 respectively.
The Airbus A330ceo series has an in-service fleet of nearly 1,300 units, including freighter and military variants, as of mid-2019. It remains a popular medium widebody twin, although it has been superseded in the marketplace by newer-technology aircraft from Boeing (787) and Airbus (A330neo, A350).
Airbus A330 market review
The A330-200 initially sold well, albeit accommodating fewer passengers and less cargo than the A330-300. It proved a popular variant for lessors, with almost 50% owned by the leasing community. The A330-200 is popular with airlines that benefit from superior 1,000nm range advantage relative to the A330-300 and "hot and high" field performance on longer-range, relatively low demand routes.
Outsold by the A330-200 for many years, the larger A330-300 has become the preferred member of the A330 family. The in-service passenger aircraft fleet is now over 700 units. After years of continuous improvement, it offers a similar range to the A330-200 and a significantly higher passenger load, making it a more efficient aircraft.
That said, given the age of the product line and the availability of newer-technology replacement aircraft, the firm order backlog had declined to about 20 aircraft as of August 2019. The number of aircraft built has declined as production capacity has switched to the A330neo and A350 products.
Nevertheless, with a capital cost that's far less than competitors, the A330-300 is expected to remain a strong competitor with considerable operating flexibility and economic performance over medium-to-long haul routes. The production rate has increased to seven per month after earlier reductions.
Figure 1: Deliveries and in-service or stored fleet for A330-200 and A330-300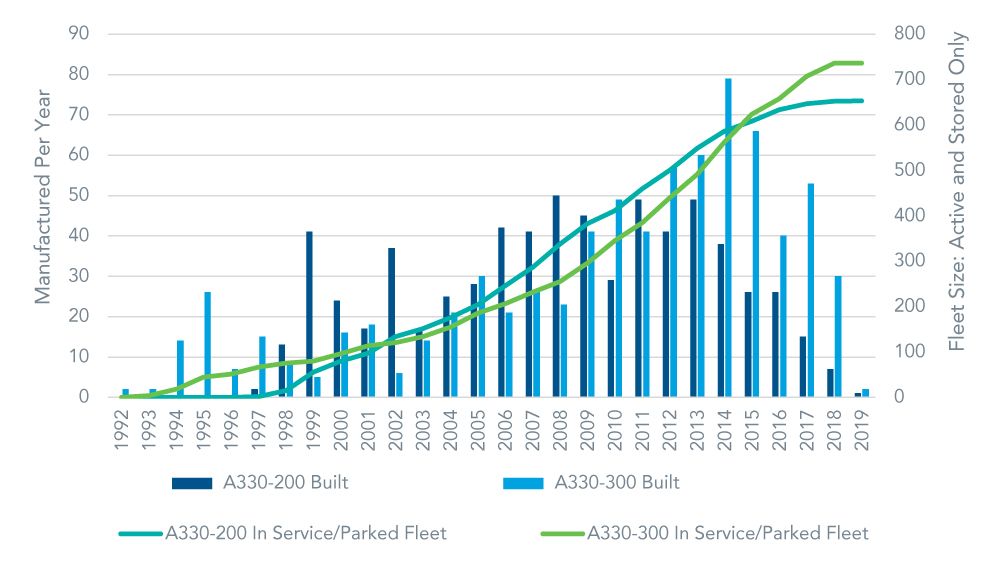 Source: CAPA Fleets database, August 2019
Airbus has improved the aircraft with a relatively modest investment, and these increases in capability have led to increased demand for the aircraft.
Through the latter part of the 2000s and early 2010s, the aircraft experienced a rise in sales as customers sought interim lift while 787 program delays increased. The A330-300 eclipsed its natural competitor, the Boeing 777-200, and meets most mission profiles of the longer-range 777-200ER.
Current generation competition comes from the 300-seat 787-10 and from fraternal competition by the Airbus A350-900, which entered service in 2015. The most direct competitor to the A330-200 and 300 is the A330-900, which began service in 2018. The current in-service fleet comprises 23 aircraft with an additional 221 on firm order backlog.
The A330ceo fleet is reasonably well-dispersed geographically but dominated by operators in the Asia Pacific (APAC) region, where 47% of the aircraft operate. Nearly 30% of the fleet is in service in Europe, making it the second-highest geographic regional concentration, while 12% of the fleet resides in the Africa and Middle East regions.
Within the family variants, the A330-300 is concentrated in the APAC region, where nearly 60% of the fleet is in service. Of the 15 largest operators of the A330-300, ten are in APAC, compared to only three in Europe and one in North America.
Figure 2: Geographic dispersion of the A330-300 Fleet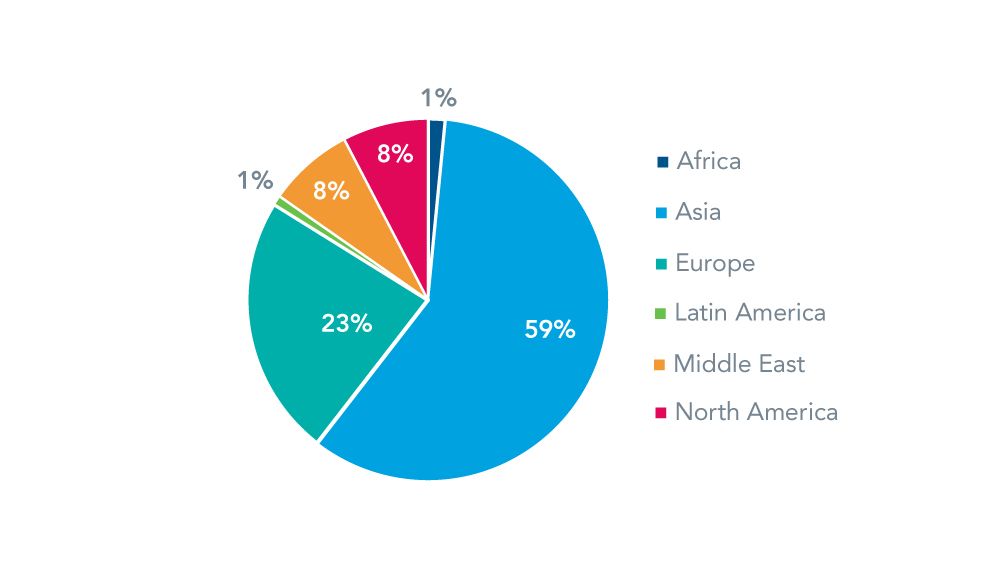 Source: CAPA Fleets database, August 2019
Given the long sector lengths and the large passenger volumes in the APAC region, these statistics are not surprising. However, this concentration does expose the A330-300 to potential challenges should the region suffer an economic downturn similar to the 1998 Asian Flu crisis.
The A330-200 is not as concentrated in the APAC region as the -300 variant, though two-thirds of the fleet operates in APAC and Europe, with each region flying 33% of the in-service fleet.
Overall, the A330ceo market mass—the ratio of aircraft in service and on order to the number of operators and customers—is very good. It includes over 120 operators and customers and nearly 1,340 aircraft in-service or on order.
Aircraft with substantial market mass tend to be very liquid, as the opportunities to transition aircraft from one operator to another are numerous. For the A330-300, the operator base is fairly broad, with 68 airlines as of August 2019. It has become a workhorse for major airlines and low-cost carriers alike, such as AirAsiaX, Cebu Pacific, and Lion Air.
Figure 3: Top 20 carriers of combined A330 fleet (active and orders only)
Airline

A330-200

A330-300

Grand Total
AirAsia X (inclu. Thai and Indonesia)
36
36
72
Turkish Airlines
28
39
67
Air China
9
20
1
Cathay Pacific (incl. Cathay Dragon)
57
57
China Eastern Airlines
30
24
54
China Southern Airlines
14
34
48
Delta Air Lines
11
31
42
Hainan Airlines
9
25
34
Saudia
32
32
Korean Air
8
21
29
Qantas Airways
18
10
28
Hong Kong Airlines
9
19
28
Qatar Airways
12
13
25
Malaysia Airlines
9
15
24
American Airlines
15
9
24
Garuda Indonesia
7
17
24
Hawaiian Airlines
24
24
Iberia
16
8
24
All Other Operators
338
282
620
Total
614
727
1,341
Source: CAPA Fleets database, August 2019
Note: Grey shaded airlines are based in the APAC region
The number of A330ceo series aircraft in storage—a proxy for asset demand—stands at about 5.9% of the current fleet (in-service and stored combined) but includes aircraft that may be transitioning to new operators. At a variant level, the A330-200 has a significant number of aircraft in storage, over 9%, while the share of A330-300s in storage was just over 3%—indicative of relatively stronger demand for the latter type.
The average age of those A330-300s in storage is 12 years. Four of the 23 stored A330-300 aircraft are earlier-vintage variants (pre-2000), likely with lower MTOWs that are operationally less-flexible and thus less-attractive to new passenger operators. But, they may represent an opportunity for the freighter program.
With respect to engines, there are some market liquidity issues, given that the A330-300 is available with three engine options from Rolls-Royce (Trent 700), General Electric (CF6-80E1), and Pratt & Whitney (PW4000-100).
The Trent 700 is the market leader with about 68% market share, and A330-300s with Trent engines should afford the owners increased remarketing opportunities. Investors are concerned, however, about the residual values associated with Trent 700 engines at the end of their useful lives. The issue stems from the OEM's considerable control over the aftermarket, though they have tried to alleviate these concerns with an array of aftermarket and support service offerings.
Figure 4: Engine manufacturer share of A330-200 and A330-300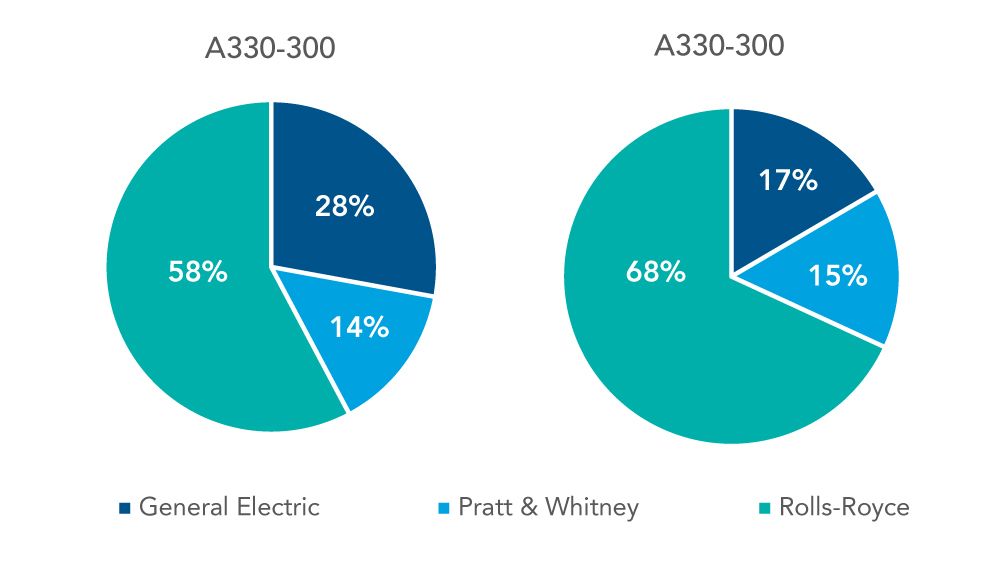 For some time, the secondary widebody aircraft market (e.g., the A330 and 777 market) has faced high reconfiguration costs and decreasing demand, causing significantly reduced values and lease rates on redelivery. The following chart displays the trend in availability monthly since the beginning of 2018.
Figure 5: Available A330 series aircraft by month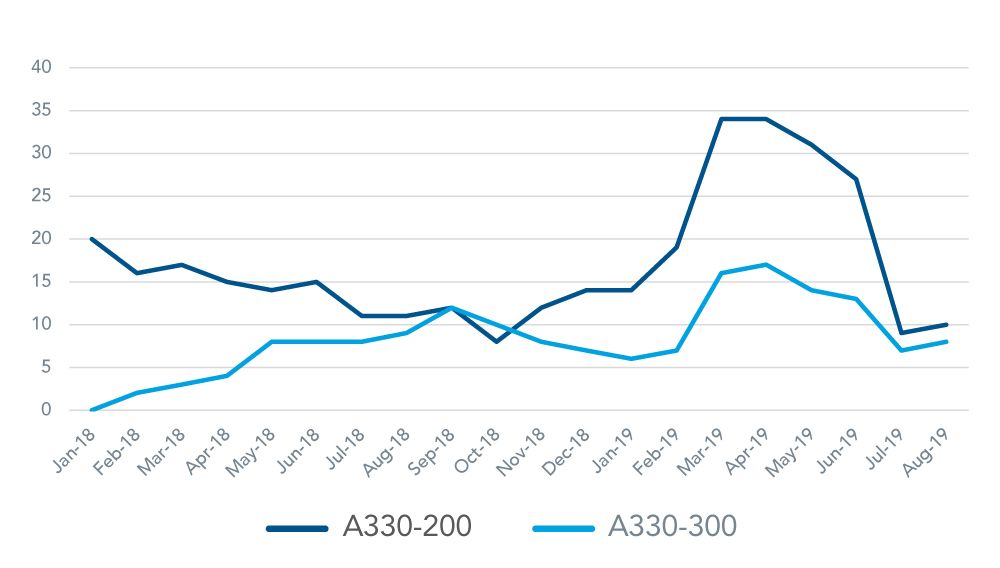 While the number of aircraft listed on Airfax has declined recently for both the A330-200 and A330-300, actual availability is a bit higher—with several of both types offered through brokers' websites. However, among current-generation twin-engined widebodies, the A330 family—and in particular the A330-300—appears to have greater market liquidity than the Boeing 777 family. It enjoys a broader operator base and saw relatively more aircraft returning to service over the past year.
Passenger to freighter conversion market analysis
The Airbus A330-200 and -300 variant, and the Boeing 767-300ER passenger aircraft are expected to dominate in the passenger-to-freighter (PTF) 30—80-tonne medium widebody markets in general, express, and e-commerce air freight markets in the coming years.
In its Current Market Outlook 2018-2038, Boeing sees a medium widebody fleet increase from 640 aircraft in 2018 to 1,200 aircraft in 2038, with share growing from 32% to 35%. According to the Centre for Aviation (CAPA), A330ceos and 767s account for about 300 of these units in service with another 72 units on firm order backlog.
Much of the current medium widebody demand centers on the Boeing 767-300ER, with both ATSG and Atlas—in concert with Amazon—actively acquiring passenger aircraft for PTF conversion. This places significant pressure on conversion slot availability. The need for the A330 PTF program is expected to grow when suitable aircraft become available at economically-feasible levels for acquisition and conversion, allowing appropriate redelivery market prices.
ICF research suggests current Airbus A330 PTF conversion costs at around $17 million excluding engine and airframe maintenance costs. For an aircraft to be suitable for conversion, its age, maintenance condition, and accumulated flight hours and cycles must allow for an acceptably low price yet enough useful life left to justify the effort. Given the growth of express freight and e-commerce—and relatively light, high volumetric payloads—buyers favor A330-300 aircraft with higher volumetric capacity. But, they still require higher MTOWs than the older base MTOW aircraft for operating flexibility.
Suitable post-1998 feedstock aircraft still maintain values well over $20 million, which ICF forecasts will preclude their acquisition for another three years. We do not believe significant conversion activity will occur until on-ramp redelivery costs near $30-32 million.
A330 family leased aircraft analysis
Based on CAPA data, nearly 55% of the total A330 fleet is either on operating or financial leases. The combined A330 active fleet skews on the younger side, with an average of under 10 years—despite its 25-year production run. As a result, much of the fleet is approaching the end of its first lease, which, for this size aircraft, typically occurs in the 10-12 year time frame.
Lease return information is often highly proprietary, so ICF has based its lease expiry estimates on information found in CAPA, public news sources, and generalized estimates.
Figure 6: Estimated lease termination dates of A330 series aircraft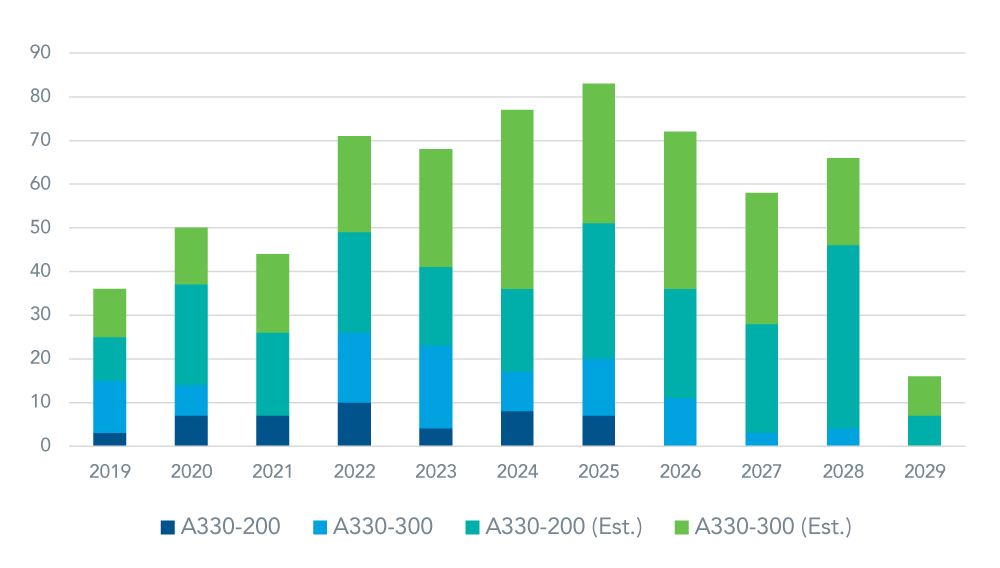 Source: CAPA Fleets database, ICF analysis
In summary
The A330 aircraft family retains a relatively healthy position in the overall aircraft market. Though much of its activity is concentrated in specific markets, like Asia, its efficiency and flexibility in both passenger and freight services continue to support in-service fleet retention.
At a variant level, the Airbus A330-300 has become the preferred model for many airlines thanks to gradual improvements over the product life cycle. As the family of aircraft continues to evolve, the A330 remains popular with first and second-tier operators globally. It should keep serving as a medium widebody workhorse for many years, albeit at lower values and lease rates compared to new-technology replacement aircraft.