The Airbus A220: Unlocking nonstop service to hundreds of secondary markets
With the unique combination of low cost, high comfort, and long range, the A220 aircraft could lead to 300+ new and improved routes—benefiting dozens of mid-sized markets.
The newest and smallest aircraft from Airbus, the A220, has not received the same attention as other next-generation aircraft like the 787 Dreamliner or A321neo LR. But this narrowbody sits alone in the class of 120 to 150 seat aircraft. It has the potential to transform the medium-haul market—opening up thinner routes that lie beyond the range of regional jets but are too small for the 737 and A320 family aircraft. The results could be much like the 787 and A321neo LR with long and thin routes.
The A220—formerly the Bombardier C Series—is a clean-sheet design that offers the cabin comfort and range of a narrowbody for a lower cost. Sales started slow, but then Airbus came into the picture. From the 2017 acquisition of the program from Bombardier to the 2019 Paris Air Show, orders jumped 75%—thanks in large part to Airbus' stronger after-market support network. The A220 is outselling its closest competitor, the Embraer E2 (a re-engined replacement for the successful Embraer E-Jet), by more than three to one.
Cumulative orderbook of A220 and E2 programs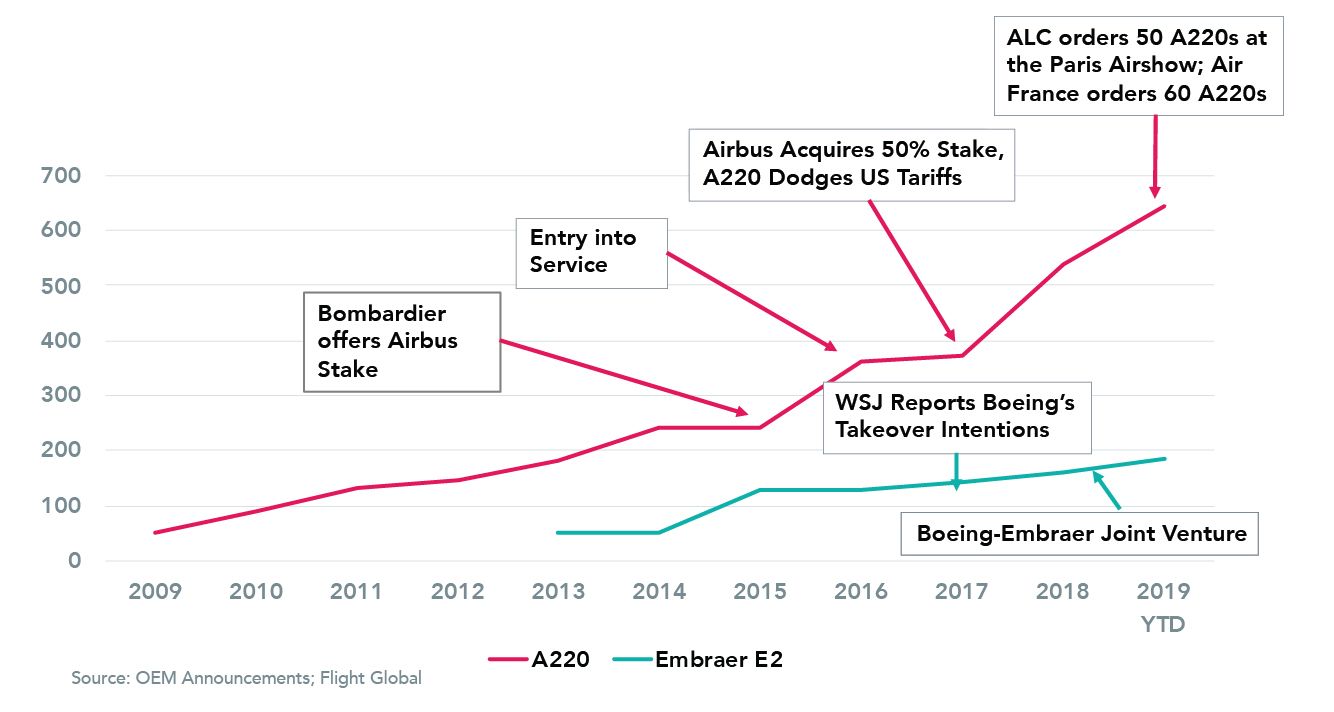 The A220 received a strong vote of confidence when Delta Air Lines placed an order for 95 aircraft. The major U.S. airline currently operates 18 of the A220, with orders for 77 more in place—making them the largest operator of the type. Most recently, in July 2019, Air France placed an order for 60 A220s.
At the time of writing, there are 78 A220s in operation, with a further 486 on backlog. Future operators with large orders include jetBlue (70 aircraft); Air France (60 aircraft); Moxy Airways, which is David Neeleman's latest project (60 aircraft); and Air Canada (45 aircraft). The major lessor ALC (Air Lease Corporation) also showed its faith in the A220, placing an order for 50 at the 2019 Paris Air Show.
Operator

Active Fleet

On Order Fleet

Total Fleet

220--100

220--300

220--100

220--300

Delta Air Lines
18
27
50
95
airBaltic
19
31
50
SWISS
9
20
1
30
Korean Air
10
10
Air Tanzania
2
2
Total for Current Operators
78
109
187
Source: Manufacturers and ICF analysis
The A220 comes in two variants: the A220-100 and A220-300. It also offers cabin sizes and ranges greater than any regional jet on the market—comparable to older generation aircraft like the MD-80 and 717, which are still flown in large numbers by airlines like American, Delta, Hawaiian, and Qantas.
The A220's size and range combination fill a gap in the regional jet and narrowbody product offering. The larger A220-300's range is greater than the 737-700's, and is extended-range twin-engine operational performance standards (ETOPS) certified, allowing it to operate nonstop on the Transatlantic, and between Hawaii and the U.S. mainland.
Importantly, the A220's unique wide-cabin design offers similar comfort to narrowbody aircraft, giving it a unique product advantage over the Embraer E-Jet and E2 on flights over two hours.
Current regional jet and narrowbody product offering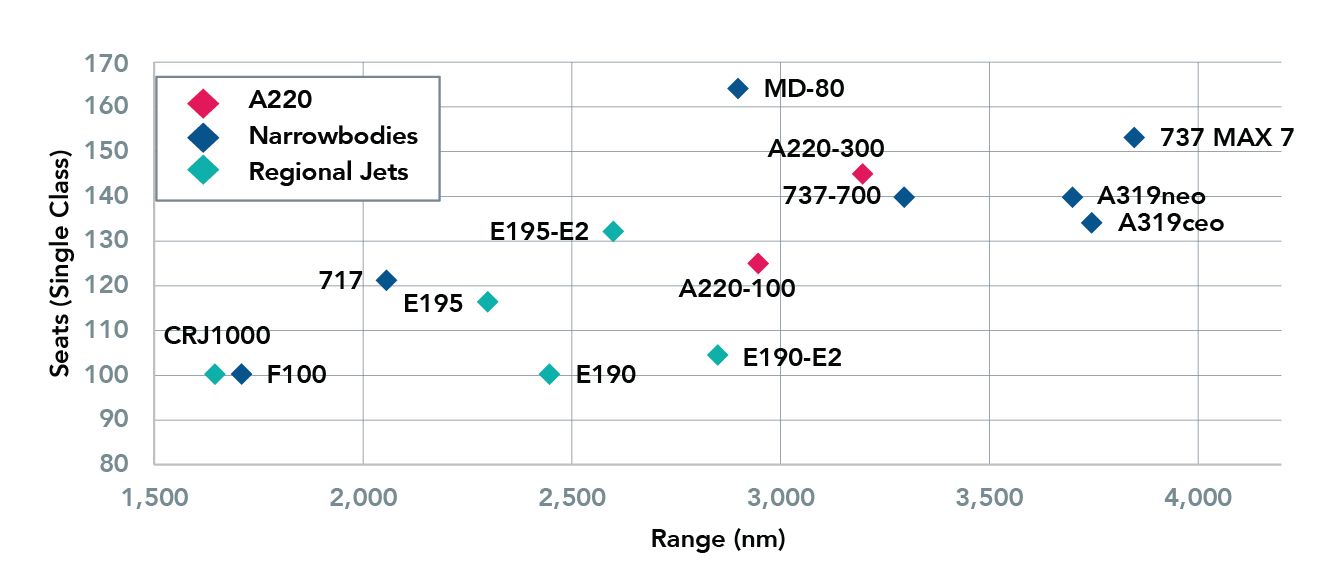 Source: Manufacturers and ICF analysis
But range, cabin size, and comfort are not enough to attract buyers. Operating economics are key and, as such, the A220 once again impresses. The A220-100 offers similar per-trip costs as the E-190 E2 but has a 15-18% lower per-seat cost. This gives the A220-100 a comparable risk but greater upside potential than the E-190 E2. The A220-100 also has favorable economics as compared to the E-195 E2, with a similar cost per seat and 6-8% lower cost per trip.
The larger A220-300, meanwhile, has a similar cost per seat as competing new generation narrowbodies like the A319neo and 737 MAX 7, but with a lower cost per trip. This makes the A220 well-suited for short- and medium-haul routes, including those that are too thin for larger narrowbodies.
Operating cost per trip and seat - % change vs. A220-100 – 1,500nm sector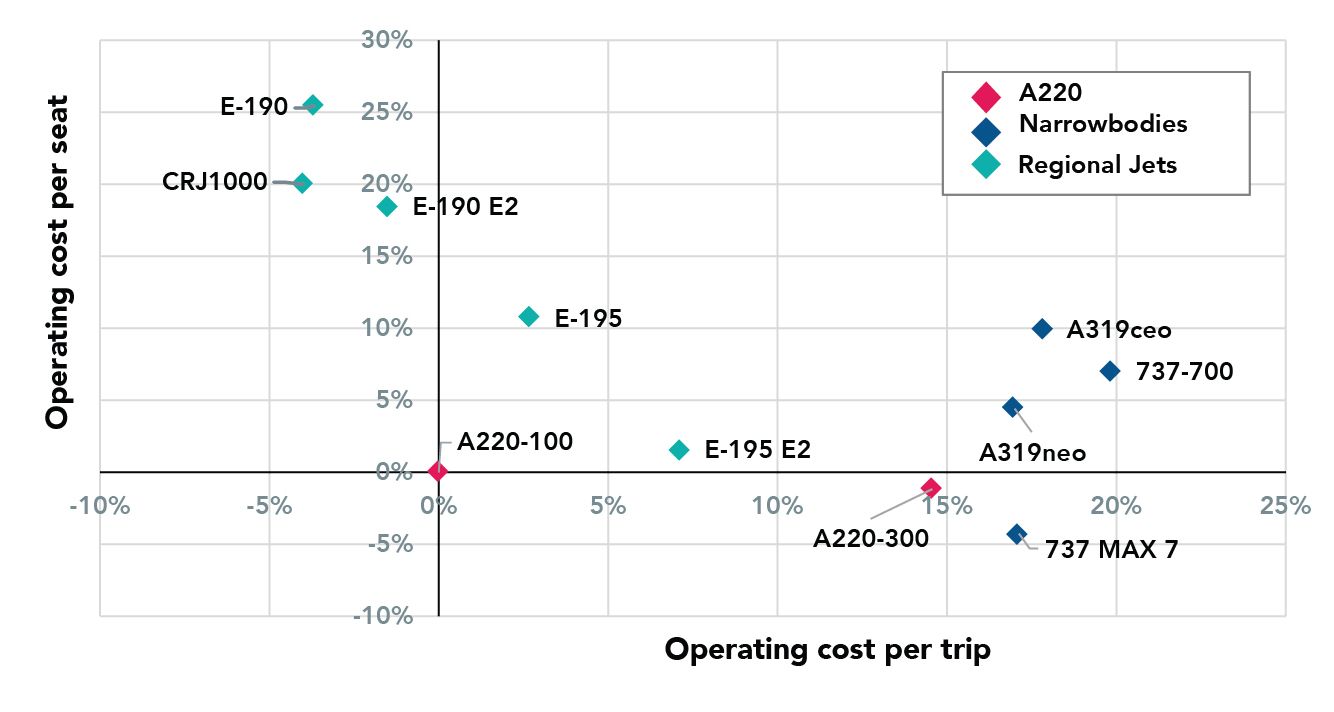 Thanks to its enhanced range and attractive economics, the A220 allows profitable nonstop service in thin medium-range routes (1,500nm to 3,200nm) that cannot be served efficiently by existing aircraft—either due to high per-trip costs or insufficient range.
To test this, ICF identified unserved routes as of October 2019 and assumed that new nonstop service would generate a conservative 75% local market stimulation. We have seen stimulation much higher than this when a new nonstop service is introduced. Only routes that could support daily service with a load factor of at least 80% were retained. This analysis was conducted using ICF's proprietary QSI model, NetWorks®, to account for competition from other connecting services.
Our analysis shows that the A220 could have a powerful impact in North America, with airports along the West Coast—from San Diego to Portland—showing the greatest potential for new nonstop service, particularly to secondary cities across the eastern U.S., Mexico, and Central America. Examples of viable new routes include Los Angeles to Jacksonville, San Diego to Columbus, San Francisco to Hartford, and Portland to Tampa.
Airports with the highest number of new routes enabled by the A220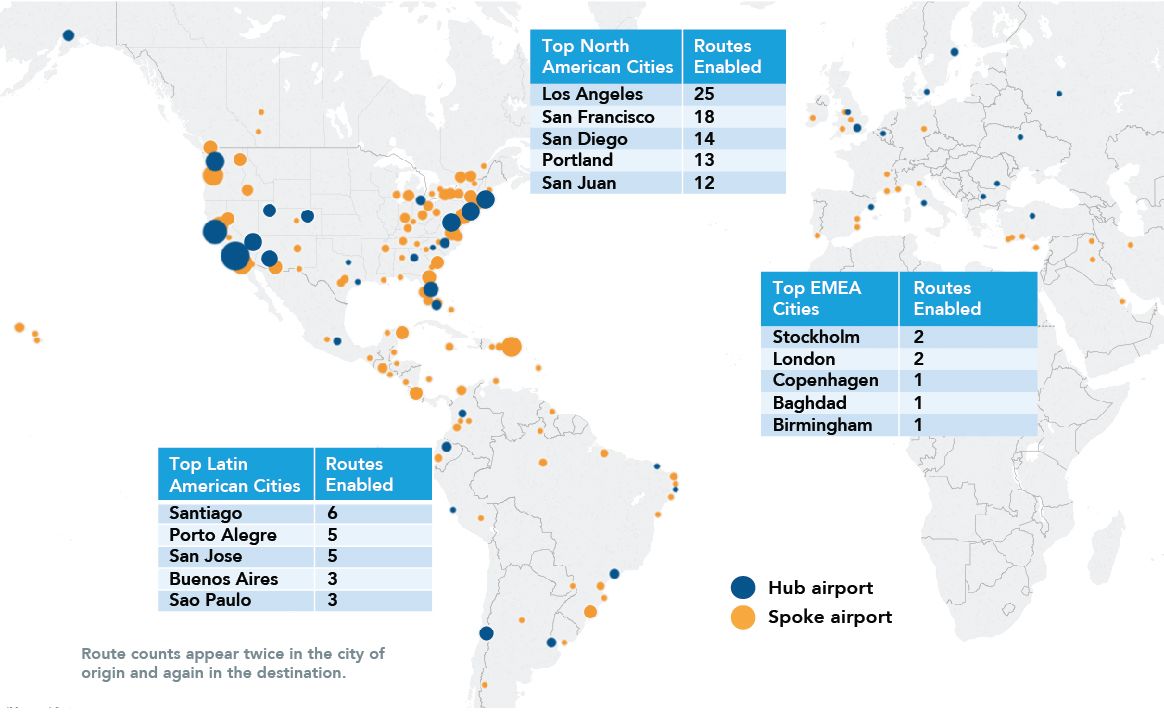 Source: ICF analysis based on IATA PaxIS, YE April 2019.
The A220 could also open several new nonstop routes in Central and South America, with airports like Santiago, Porto Alegre, and San Jose standing to benefit. Some potential new routes include Santiago to Cartagena, Porto Alegre to Recife, and San Jose to Boston.
While the A220 is thriving in Europe—both Air Baltic and SWISS operate extensive networks—the shorter distances limit the potential to leverage the aircraft's superior range. However, the A220 is capable of opening new nonstop routes between Europe and the Middle East.
These numbers only reflect new nonstop routes. The A220 would also allow carriers to increase from less-than-daily to nonstop on hundreds of routes, thus improving the service offering. In total, we estimate that the A220 could result in over 300 new or improved routes in North America, 82 in Latin America, and 73 in Europe and the Middle East. The A220's impact should be greatest in mid-sized markets with unconstrained airports, such as Austin, Boston, Calgary, Salt Lake City, or Denver in North America; Geneva, Brussels, or Lyon in Europe; and—if Latin American carriers catch on—in cities like Guadalajara, Medellin, or Porto Alegre.
Number of routes enabled or enhanced by A220 by world region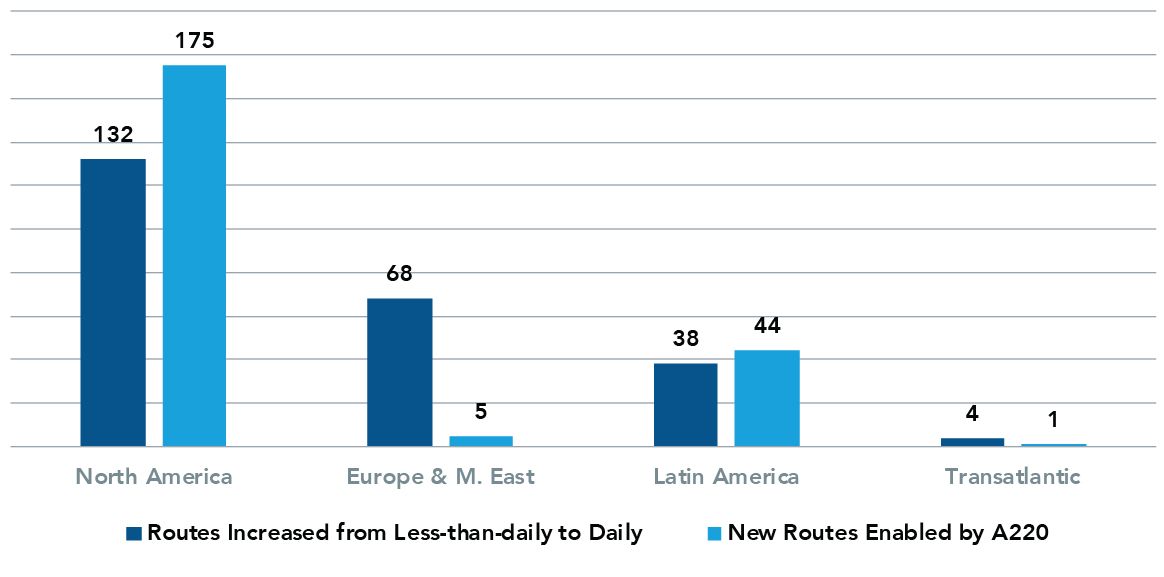 Although it's an Airbus aircraft, the fact that the program was acquired after entry into service means that the A220 lacks cockpit or parts commonality with A320-family aircraft—adding complexity and increasing costs for airlines looking for fleet homogeneity. This issue is not a deal-breaker for larger airlines that can support a big enough sub-fleet to achieve economies of scale in crews and spares. But, it may put off smaller airlines that would like to add flexibility to their fleet to tap into thin medium-range routes profitably.
The biggest challenge for prospective operators is getting their hands on A220s. Airbus recently began production of the A220 in Alabama, complementing its main facility in Quebec. However, with nearly 500 aircraft on backlog, customers placing new orders may have to wait until the mid-2020s—unless they can lease from ALC or negotiate with current customers.
Regardless, the A220 is in a class of its own. We believe it will continue to build upon strong sales—rewarding operators with favorable economics and benefiting both communities and consumers by improving nonstop service options.