Teammates bring their cybersecurity governance expertise aboard the KC-46 military aircraft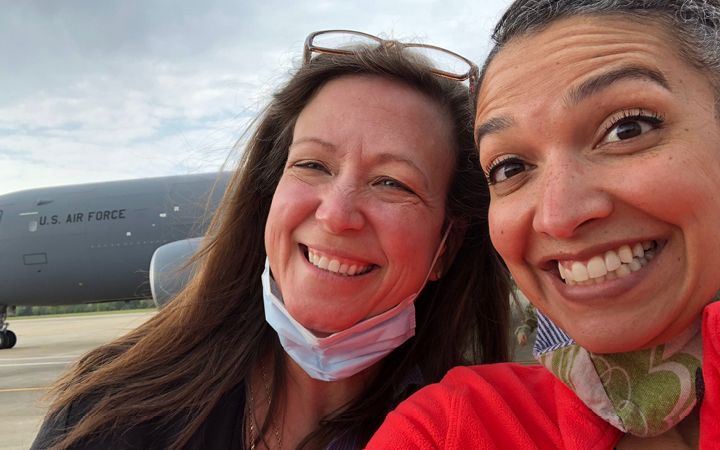 The Command Cyber Dream Team. That's the nickname bestowed upon Susan "Savage" Andre and Alyssa "Storm" Legg by our client, the U.S. Air Force Air Combat Command, A3T Flight Operations. And it's a moniker that's well earned and worn with pride.
Both Air National Guard veterans, Susan and Alyssa are part of our team of cybersecurity professionals supporting Air Combat Command at Joint Base Langley-Eustis, Virginia. They focus their time and efforts on enhancing cyber warfighting capabilities by recommending and articulating command policies and guidance. And they are known for their success in identifying issues within training and equipping our client with options to mitigate and enhance the combat force.
Now, this dynamic duo is creating a governance structure that includes a consistent and sustainable process for organizing, training, and fielding equipment. As part of their research, they hopped on an invitation to join a flight on an aerial refueling and strategic military transport aircraft known as a KC-46.
But it wasn't just any flight. Known as an "incentive ride," this special trip is granted to superlative individuals for their exceptional work or accomplishments. After clearing their physicals, Alyssa and Susan joined the crew on a routine refueling mission. They visited the cockpit and listened on the headsets. They even briefly helped transfer fuel from one aircraft to another during the flight.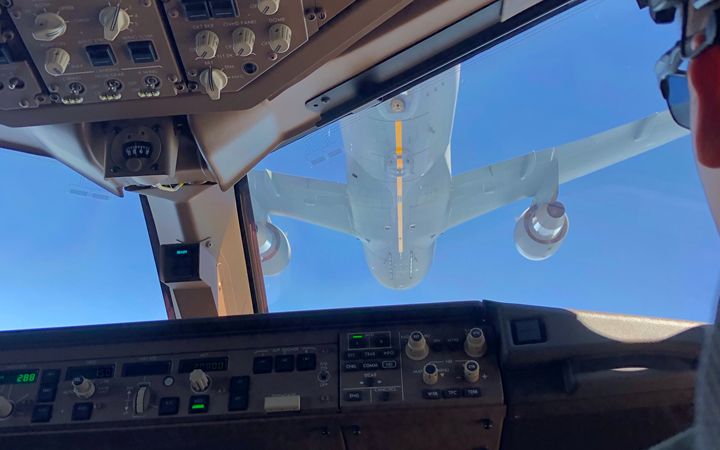 "Sitting in the jump seats behind the cockpit, we're surrounded by a huge dome of glass. We could see the plane approaching us, boom extended to provide the fuel. Any wrong move could be disastrous. But the flight crew was so calm, cool, and collected." — Alyssa Legg
Of course, given the nature of their work, they asked a lot of questions. "We talked about risks to the mission, quality assurance checks, and cybersecurity safeguards. There's a lot at stake here. But the crew was excited and open to sharing what they have in place," Alyssa explained.
Following their adventure, Susan and Alyssa have been applying what they learned to their work. They set guidance and standards that help protect key military operations—flight to maintenance—from potential vulnerabilities.
"It was incredible to watch the crew execute a carefully coordinated, yet highly efficient, refueling process." — Susan Andre
Photos courtesy of the U.S. Air Force. The appearance of U.S. Department of Defense (DOD) visual information does not imply or constitute DOD endorsement.