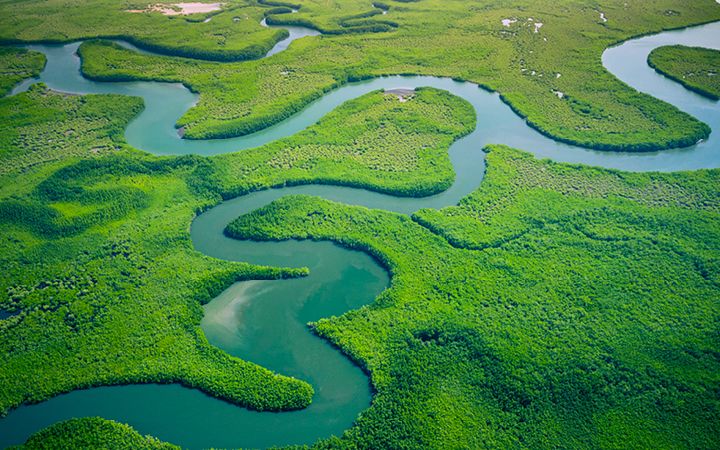 Sign up to receive exclusive Climate insights
Sign up to receive exclusive Climate insights
Sign up to receive exclusive Climate insights
Want to hear more from our experts? Get the Climate newsletter.
Want to hear more from our experts? Get the Climate newsletter.
Want to hear more from our experts? Get the Climate newsletter.
Subscribe now
Con Edison's climate resiliency journey
How we supported the development of an industry-leading approach to help Consolidated Edison of New York pursue more effective resilience in the face of current and emerging climate change risks.
Utilities today recognize the pressing need to address infrastructure and resilience goals in a changing climate.
We partnered with Con Edison
to produce a
climate change vulnerability study
designed to help the utility withstand changes in climate, absorb and recover from outage-inducing events, and advance to a better state.

In the last decade, utilities have experienced more extreme weather events than in the past two decades combined. Already, many utilities are seeing climate change impacts to their bottom lines—and the risks of not proactively addressing climate change are only going to increase. Along with bottom-line impacts, utilities are also concerned about communities throughout their service areas, investors, and regulators.
Con Edison, one of the largest investor-owned energy companies in the U.S., began their climate change resiliency journey in 2013 after Superstorm Sandy. Aiming to take a proactive approach to enhance resilience in the face of changing climate conditions, they sought a partner to help identify implementation opportunities and support the justification of necessary costs.
Related services and industries
We led a climate change vulnerability study to arm Con Edison with the best available science to protect current and future investments against climate hazards. This study assessed climate change risks, reviewed operational measures, stress-tested scenarios, and developed strategies to address utility and customer resilience.
We helped Con Edison translate climate science into actionable information that made sense within the utility's specific context. While Con Edison already uses a range of measures to build resilience to weather events, together we recommended additional climate adaptation measures based on the forward-looking climate science analyzed in the study. These include integrating temperature projections into measures such as load forecasting and reliability modeling; prioritizing the retrofitting to submersible equipment in an expanded future floodplain; monitoring local changes in climate and urban heat island impacts; and increasing planning for resilient supply chains.
Stakeholder engagement, including with dozens of subject matter experts across Con Edison and an external working group, played a central role in the study. We helped facilitate expert interviews and workshops, synthesizing knowledge about potential climate impacts from across the business to provide results that are specific to the Con Edison system and processes.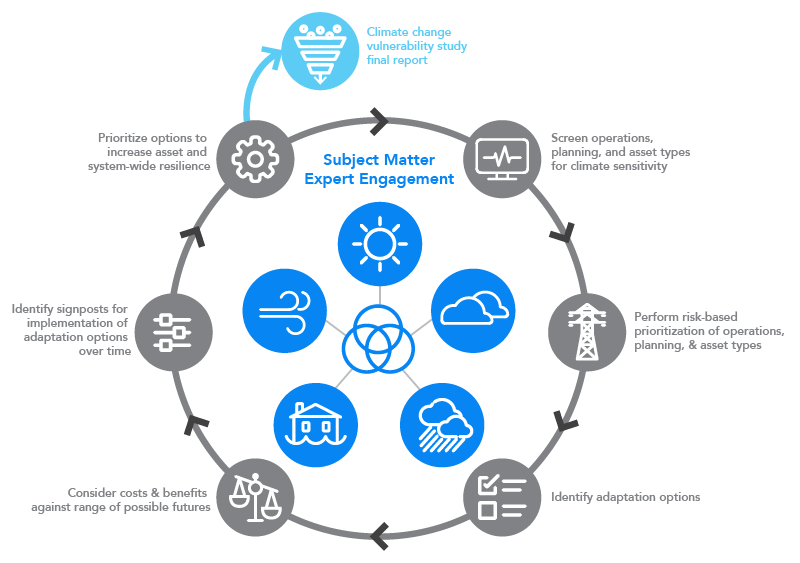 Con Edison is developing a plan to address future climate risks. The influence of climate change may require investments between $1.8 billion and $5.2 billion by 2050 in order to protect their electric, gas, and steam delivery systems and customers from the impacts of climate change.
The detailed climate change vulnerability study provided Con Edison with a new understanding of risks to address. The results supported the development of an implementation plan that integrates climate change into Con Edison's day-to-day planning, engineering, operations, and preparedness. This plan will allow Con Edison to focus on and enhance resiliency while meeting the responsibilities to their customers, the environment, and an ever-changing energy market.
New climate data reveals warmer, wetter future for the U.S.
In this report, our climate scientists project some Americans could experience 42-61 additional days with temperatures above 95 F by midcentury.