Removing roadblocks: Managing change when your employees return to the workplace
When the novel coronavirus first hit and impacted the way we work, we didn't know what to expect or for how long. There was a mad rush to prepare employees to work from home, with the expectation that things would return to "normal" after a few weeks or months. It has now been more than eight months since work-from-home restrictions were put in place, and your organization may be considering returning to the workplace as the country is learning new ways to work and deal with the threat of COVID-19.
But what will the workplace experience be like now? Are there things you expect your employees to do differently because of social/physical distancing and other precautions? Does it change the way you collaborate or interact during a disaster? Will some employees stay at home while others return to work?
The decision to go back to the office—and when—can be a difficult one
Organizations facing the decision to return to the workplace have a lot to consider:
How do we prepare for this new way of working?
How do we effectively communicate our plans?
How do we get our employees on board?
Is our workforce even ready to return to the workplace?
You may even decide not to go back to a physical location and shift permanently to a 100% virtual approach of formal telework. Regardless of what change you are facing, we offer a step-by-step approach to help you manage it.
The ChangeWorks methodology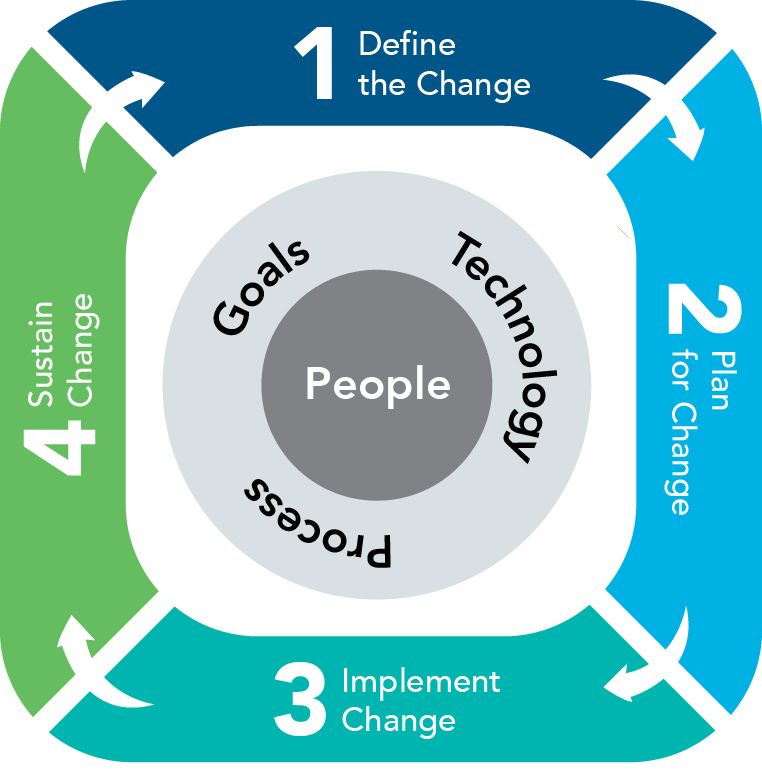 This methodology is a structured and flexible model for helping people successfully manage change. ChangeWorks offers a framework for change based on the type of change introduced in an organization—in this case, an effort to keep employees out of harm's way while balancing the needs of the mission.
ChangeWorks places people at the center of the change while providing change managers with the tools to right-size the approach based on the unique situation. A change manager is someone in your organization who will be introducing staff to new ways of working, perhaps by bringing employees back to the workplace. You may already be in this role, whether you recognize it or not.
ChangeWorks combines research and experience to guide organizations through the following four phases of change. Note that the timeframe for implementing a change does not have to be long—some changes can be managed and implemented in the span of a week, if necessary. The ChangeWorks model allows for this flexibility and can be sized for the level and timeframe of the change you are implementing.
1. Define the change
During this discovery phase, change managers identify how people in the organization will have to operate differently as a result of the change—whether it is in relation to technology, new policies, or operating principles—and define why the change is necessary. Using this approach supports the change manager in assessing the roles necessary to facilitate successful change and understanding potential concerns with returning to the office, such as childcare issues, underlying health conditions, conflicting public health information, preference for telework, and available flexibilities. Whether you are returning to the office full time, proposing a hybrid approach, or continuing to work remotely, it is critical to define the change up front and identify who is impacted and how.
2. Plan for change
Change managers take on the role of hands-on planner as well as project manager while planning for change. During this phase, change mangers analyze the needs of all stakeholders (i.e., everyone who is impacted by the change), identify and plan for accommodating various employee needs, develop key messages about the change, and create a change roadmap. ChangeWorks includes a bank of survey items that can be used to measure employees' readiness for change, as well as other decision-making tools that aid the change manager in preparing for change. ChangeWorks can help determine:
How the change will be implemented.
How the change will impact your workforce culture.
What training, tools, and guidance are needed to successfully change—i.e., if new protocols are put in place to mitigate the physical risk of COVID-19, what do employees need to do differently to make sure they are staying safe?
How the change will impact existing organizational priorities and events, like meetings and conferences.
What timeline and resources are required.
What proactive steps should be taken to best manage resistance to the change.
Planning for a change can seem daunting, but it doesn't have to be if you have the right tools at your fingertips.
3. Implement change
Implementing the change is about applying best practice principles and ensuring the necessary resources and infrastructure are in place. This phase includes early success stories, opportunities for people impacted by the change to provide critical feedback about what is working and what is not, and continuous communications about changes. For example, providing a single location (i.e., communications portal) for employees to access ensures consistency of communications and a trusted source for authoritative information. It is also important to identify the appropriate frequency of messaging (e.g., weekly updates). Implementation also includes training support and other guidance to ensure the change is implemented effectively. Ensuring consistent communications and appropriate training up front is a small investment with a huge return—saving time, effort, and money on the back end.
4. Sustain change
Rarely is there a clear stopping point for change. During this final phase, the change manager works to ensure that organizational support for the change remains strong. Feedback collected via interim evaluations (i.e., "pulse surveys") informs ongoing adjustments, considering the lessons learned and candid feedback provided along the way. ChangeWorks offers easily customizable evaluation tools that measure to what extent change is being implemented effectively and what additional adjustments may be required. ChangeWorks also helps the change manager to transition the management of this change to an existing organization or unit that will continue to monitor progress. The key here is to be flexible—normally reinforcement of the change happens here, however, depending on the climate and what is happening with the pandemic, you may need to reconsider elements of the change, or be prepared to roll back or postpone some of the changes.
What is at stake when organizations do not deliberately plan for managing change?
In our experience, there are four main consequences when agencies don't plan for change:
1. Cost
Lack of planning can delay progress on any effort, resulting in impacts to the schedule and, ultimately, significant increases to project costs.
2. Inefficient and ineffective
Not engaging in upfront change management often undermines any intended gains in efficiency and effectiveness. Lack of awareness, lack of training, and lack of resources impact your outcomes—but can be remedied with commitment to front-end planning.
3. Slow adoption
Not sufficiently preparing your workforce for change is a key reason for slow adoption among employees.
4. Employee morale
Insufficient preparation is also a drain on employee morale and can cause frustration, burnout, and unwanted turnover.
In the era of COVID-19, we have to ensure that we are removing obstacles for people to better be able to do their jobs. Having repeatable processes helps you plan your continuity of operations and be better prepared for the next crisis. The ChangeWorks methodology recognizes that as people implement change, they must be made aware and included in the change early—and continuously—in order to build buy-in and speed adoption, whether you are trying to get back to normal operations or completely shift the way you operate.