Cargo has proven itself to be a key revenue generator for Indian airlines in the chaos and duress of a global pandemic, and now the stage is set for air cargo to grow into the ascendant industry of India's globalized future.
Pre-COVID: Passenger-driven, cargo neglected
Prior to COVID-19, Indian aviation frequently landed in the headlines for the rapid expansion of its passenger base—and for good reason. The Indian market regularly achieved double-digit passenger growth. In fact, between 2009 and 2019 passenger airlines in India logged a whopping 12% Compound Annual Growth Rate, despite the bankruptcy of one of India's largest airlines, Jet Airways, in 2019. The cargo market had long been relegated to its shadow, despite achieving a respectable 8% growth rate for the same ten-year period. However, with the pandemic disrupting the growth trajectory of the passenger markets (e.g., Indian passenger volumes fell by nearly 70% in 2020), passenger airlines have had to refocus their business models in order to remain viable. It seems clear that cargo's moment in the market spotlight has finally arrived.
Even before COVID-19, India's dedicated freight market faced challenges. They included (but were not limited to) fierce competition from alternative transport modes, like ocean freight and rail lines, and Low-Cost Carriers utilizing their bellyholds at significantly lower margins, impacting overheads. In fact, up until 2018, India had just one operator of dedicated freight aircraft, Blue Dart, which had been in operation since 1996, and only christened its sixth B757 in 2014.
By way of stark contrast, India's passenger fleet has grown by 60% in the past 5 years alone. It now comprises up to 800 operational aircraft, which has added significant belly capacity to the market. This vast network springing up practically overnight has been a massive boon to the heretofore modest Indian cargo sector. Since 2016, Blue Dart had been carrying around 18% of India's total domestic cargo, in 2020 that number jumped to 25%, a 7% increase in market share, thanks largely to Indian passenger airlines reducing their overall capacity.
The reliance on bellyhold cargo, however, combined with the relative paucity of dedicated freight services, hadn't gone unnoticed. In 2018, the cargo market experienced another sea change: the Indian airline, SpiceJet, announced the launch of a dedicated cargo subsidiary called SpiceXpress, with a fleet of B737s. Shortly thereafter, SpiceXpress added an array of Q400s to their fleet. Not long after that followed widebody aircraft such as B767s and A330s. The airline gradually expanded its cargo portfolio to the extent that, nowadays, they offer door-to-door service.
In today's India, we have seen the rapid enhancement of airport cargo infrastructure, digital infrastructure for cargo handling, and the development of collaborative partnership models wherein all stakeholders manage cargo multilaterally. But it remains to be seen how precisely Indian aviation will respond to, and ultimately overcome, current market challenges posed by air cargo growth. More important still loom the questions of how the burgeoning air cargo market can maintain sustainable growth amid and after the pandemic, and what, if any, role this fast-growing market may have in the future of Indian aviation as a whole.
During COVID: Air cargo, a port in a storm
While domestic air cargo demand has been quick to recover—indeed, it has nearly recovered to pre-pandemic levels—domestic passenger demand has been markedly slower to bounce back. Indeed, of late, passenger airlines in India have only managed to claw back 60% of their pre-pandemic market share.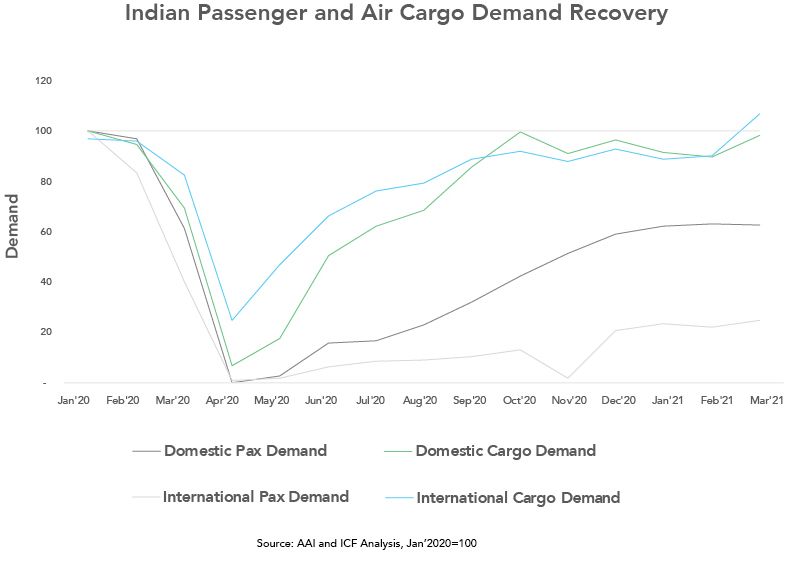 Passenger travel in India was brought to a standstill in March 2020, as the government suspended commercial domestic passenger flights for nearly two months, to curb the spread of COVID-19, but in that same interval, the cargo business became a savior for the cash-strapped airlines. From transporting medical equipment to e-commerce, the quick, reliable movement of imported goods from one region to another, took on a sudden urgency, and where need flourished the market sprung up to meet it.
Demand creators: Pharma and e-commerce
The pandemic has caused massive paradigm shifts in our day-to-day lives. With bans on in-person social gatherings, we were forced to live online, work remotely, celebrate family events virtually, and in lieu of visiting brick and mortar stores, order goods directly to our homes. The pandemic has incontrovertibly accelerated a move toward online shopping. Increased digital literacy in both urban and rural India has driven massive increases in digital demand, such that e-commerce is expected to grow to five times its current size in India by 2026, a putative $200 billion market poised to materialize in less than five years.
The cargo market in India is mostly concentrated in Delhi, Mumbai, Bengaluru, and Hyderabad, with 70% of cargo volumes passing through one or more of those hubs. But the landscape is rapidly shifting. The demand for e-commerce in India is largely driven by Tier II/III cities like Kanpur, Ludhiana, and Bhopal. Such cities represented nearly 55% of the $4.1 billion totality of online sales transacted in a single week of October 2020. Such an example lays bare the enormous demand-potential presented by some of India's oft-overlooked, less-expected cities, and regions.
Known as the "Pharmacy to the world," India is the single largest provider of generic drugs globally. It handles over 50% of the total global demand for generic drugs. The country saw a record 18% growth in exports during the last financial year while the domestic market is expected to triple in size from $41 billion in 2021 to $120 billion in 2030.
With both e-commerce and pharma relying heavily on ease of long-distance transport for quick delivery cycles, the need to ferry vital drugs and medical equipment dovetailed almost seamlessly with the imperatives of the e-commerce market. The freight carried per domestic flight in India increased by an average of 0.6 tons in the post-pandemic era, as compared to the months prior. Flash forward to today: the domestic cargo per flight in India has doubled, hovering at an average of 1.2 tons, up from 0.6 tons during the pre-COVID times.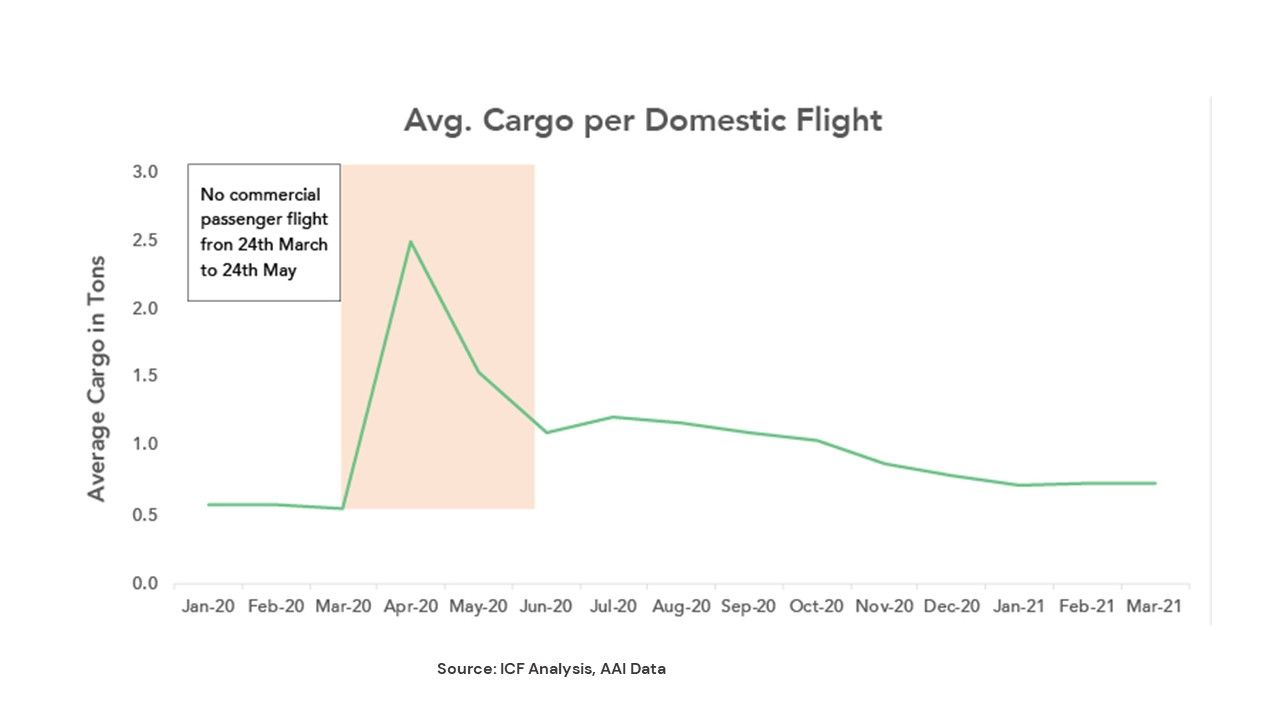 Due to poor passenger demand, many airlines retooled their business strategies to meet the moment, with an emphasis on cargo, in order to mitigate the losses they were suffering. Cost-cutting and a strong cargo business enabled Indian airlines to offset the somewhat anemic customer demand in the COVID economy. SpiceJet reported a nearly 450% increase in their cargo operations revenue, from $7 million to $41 million for Oct-Dec 2020 year over year. As a result, airlines like SpiceJet and IndiGo reported nearly 50% fewer losses in the Oct-Dec 2020 quarter as compared to the Aug-Sep 2020 quarter. Within just a matter of months, cargo operations were contributing around 32% of the total revenue for SpiceJet during the April-June 20 (Post-COVID) quarter as opposed to just 2% of total revenue during the previous financial quarter. Reading the writing on the economic wall, the airline IndiGo recently announced plans to convert two A321 passenger aircraft to full-time freighters and induct a total of four Airbus A321 freighters into their fleet by 2022.
Opportunity in the cargo business forced some airlines to work quickly and creatively, to retrofit passenger aircraft for cargo operations. More than one occasion saw some passenger airlines placing cargo on the seats of their planes. Due to limited or no freighter aircraft, these airlines were forced to seek special approvals from regulatory bodies in order to operate such flights.
Since the majority of the cargo volumes in question are bellyhold cargo, the government's decision to limit passenger airlines' carrying capacity to 65% has significantly hampered those airlines' abilities to facilitate the rapid movement of essential goods. Conversely, it ends up empowering dedicated cargo operators to achieve higher load factors and charge higher yields.
As of May 2021, India possessed 25 dedicated freighter aircraft, pertaining to either SpiceJet or Blue Dart's respective fleets. However, in such a huge potential cargo market, that number seems markedly less significant when compared to that of, say, Azerbaijan (23), Kenya (28), or Indonesia (24) to name just a few international competitors.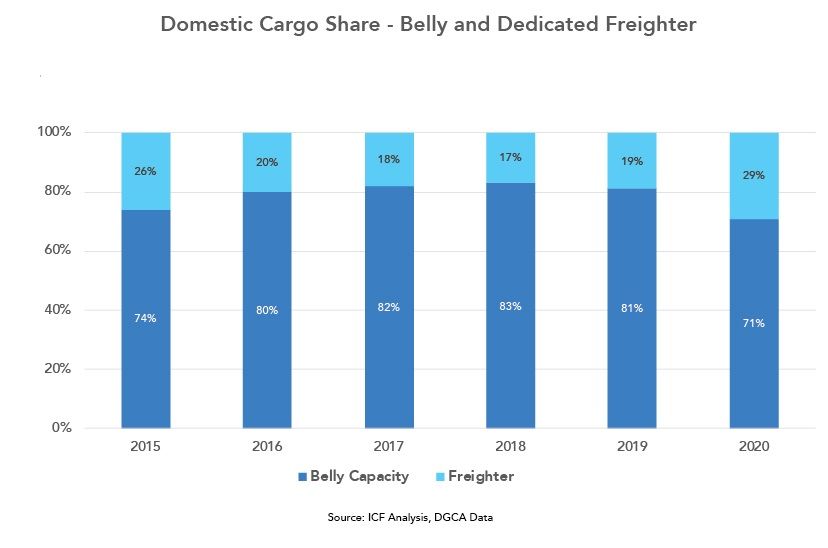 Cargo demand during the pandemic has forced Indian airports to accelerate or augment their cargo capabilities, and to develop or expand exclusive terminals for handling temperature-sensitive pharmaceuticals or express e-commerce cargo. Additional infrastructural investments such as dedicated access roads to their cargo terminals and truck parking were added in some cases to improve cargo capacity and modernize to meet rapid demand growth, as well as the needs of the current moment.
Another significant link in the global supply chain is international exporters. For air cargo export to function smoothly requires a consistent flight schedule which both ensures the timely delivery of goods and impacts price-setting to some degree both on the airline side of things and, subsequently, in the overhead paid by shipper and customer alike. Disrupted flight schedules during the pandemic and high cargo prices have conspired to pose a significant challenge to India's air export capability, however, such that high freight charges resulted in a nearly 300% increase in international cargo prices.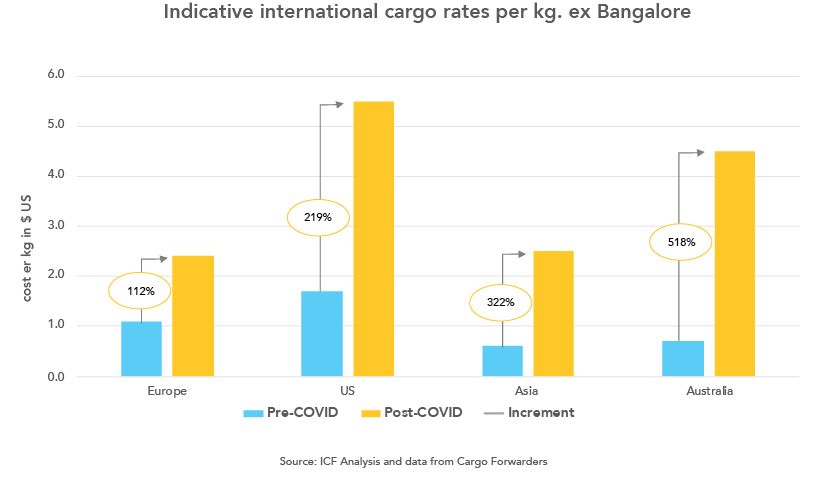 High premiums aside, COVID has brought significant challenges to the air freight industry as well: frequent flight cancellations, limitations on passenger aircraft, last-minute schedule changes, and price volatility have all had adverse impacts on the smooth function of the supply chain, forcing freight forwarders to explore lower-cost or more punctual alternatives.
Key takeaway:
Air cargo has proven to be a substantial revenue source for Indian airlines, but adequate dedicated freight capacity and infrastructure investments are prerequisites in order to gain any sort of significant foothold in the market's future. Airlines must keep costs down and prices low in order to remain competitive with alternative modes of transport such as with road cargo. Consistent schedules along with competitive pricing will help them gain a foothold in the market, and to augment existing market share.
Post-pandemic: Air cargo is poised for high growth, but not before we create dedicated capacity and bring in sector reforms
The air cargo business in India has remarkable untapped upside potential but that potential comes alongside myriad challenges, including high fuel costs and jockeying competition. One key driver for the growth of the air-cargo industry will be the development of fully digitized record-keeping leading to end-to-end paperless operations. The future of the air cargo industry will be driven by digitization and the rapid utilization of emergent technologies, leading to higher efficiency, reduced dwell times, and lower total costs. Digitization would likewise lead to the seamless vertical integration of the entire supply chain, such a development would unlock enormous stakeholder potential and streamline communication between parties at every link in the cargo supply chain.
Today, e-commerce has changed the way we shop and has further reduced customers' wait times. Customers have grown to expect quick delivery, a trendline that is unlikely to either reverse or halt in the coming decade. The steady ascendancy of e-commerce will lead to a massive demand for air cargo in the coming years and require airlines to rapidly expand and adapt to market demands. Hence it has become paramount that airlines seize this opportunity while it lasts and offer "committed" capacity to large e-commerce giants like Flipkart and Amazon. This will not only help in the short run, by allowing airlines to increase their carrier yield, but might prevent them in the long term from being drawn into less-advantageous direct competition, in the form of trying to outcompete the dedicated shipping arms of vertically integrated e-commerce giants (i.e., Amazon Air).
International airports need to rapidly expand their cargo capacity while creating dedicated infrastructure for special cargo categories. While Delhi Airport has set up India's first dedicated Transshipment Excellence Centre (TEC) to provide seamless and efficient transshipment services, Bangalore airport has created additional infrastructure to handle demand and position itself as the cargo hub of South India.
Airports must also focus on incentivizing Indian airlines to operate freighter flights in the region, and to route those flights directly through India. India with its unique geographical advantages has the potential to be a massive cargo hub for the entire region, but the lack of a larger dedicated freighter airline sector has been a significant handicap. The airports and the state government can play a major role in developing freighter hub carriers and transforming India into the logistical nerve center of a vertically integrated future.