Understanding microgrid trends is critical to both end-users interested in transformative technologies and developers expanding into growing markets.
Microgrids are playing a growing role in the evolution of the traditional electricity system toward a more distributed and modern grid. While microgrids are usually deployed in remote communities and military bases to provide energy independence and resilience, they now provide these benefits to local communities, college campuses, and even manufacturing centers.
Understanding the following microgrid trends is critical to both end-users interested in transformative technologies and developers expanding into growing markets.
Key stats
211 Operational Microgrids = 3.85 GW of Capacity
104 Planned Microgrid Projects = 1.55 GW of Capacity
Trend 1: Utilities see profits in mixed ownership
More utilities have emerged in microgrid ownership by partnering with third parties in a mixed model. In Woodbridge, CT, United Illuminating partnered with the town to own distributed energy resources (DERs) used to power critical infrastructure assets within the town. UI owns and maintains the fuel cell that powers the microgrid, while the town owns and controls the microgrid itself.
During normal operation, the fuel cell provides grid electricity; but during an outage, it will operate as an island, providing power to the Woodbridge Town Hall, library, firehouse, police station, public works, high school, and senior center.
Community microgrid models are also on the rise as cities seek distributed generation to provide more resilient and clean power. Policy initiatives and programs promoting resilient and distributed grid strategies, such as NY Prize, are the key to unlocking future growth in the community microgrid space.
The current microgrid ownership models still favor end users, while utility ownership is more prevalent in remote and island communities – however, we may see more towns like Woodbridge develop as utilities become attracted to the mixed model.
Trend 2: Solar leads the way
To date, the majority of installed microgrids are anchored by efficient CHP systems, which often include other technologies such as solar PV and energy storage. Despite a significant amount of planned deployments for CHP-based microgrids, solar currently leads the way for planned capacity.
Many planned solar-based microgrids are scheduled to be included in community or military microgrids across the U.S. There are also significant opportunities to deploy solar and storage alongside existing CHP installations.
Trend 3: The map determines the microgrid
The majority of operational and planned microgrids are located in the Northeast, with a large portion also positioned in California, Hawaii, and Alaska.
Extreme weather in Northeastern states like New York and Massachusetts demands the improved resistance to power outages that microgrids provide. On the west coast, renewable energy policy has driven California microgrids. California expects more installations as the PUC responds to the new microgrid bill. Microgrids in Hawaii and Alaska are traditionally required for islands and off-grid or remote communities.
Looking to the future, there is still planned investment in traditional remote location, military, or campus-style microgrids – but a large portion of planned microgrid capacity will likely be deployed in cities and local communities to improve resiliency and meet renewable goals.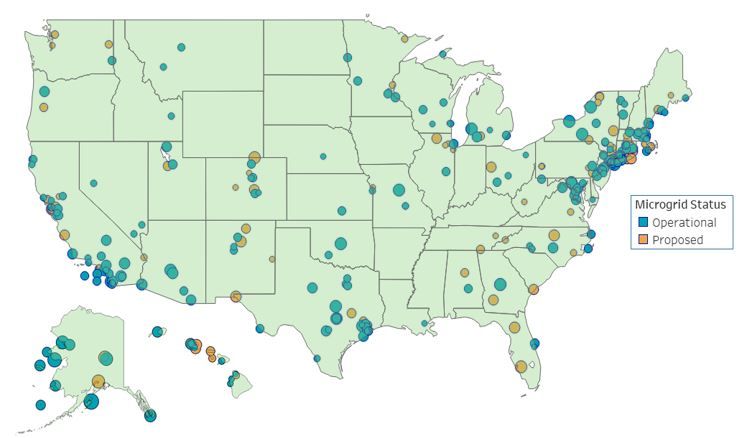 Trend 4: Microgrid implementation drivers
End-users are still pursuing microgrids for the same reasons: reliability and resiliency, incorporating renewable energy, and research and development.
However, in recent years, microgrids have become known as a reliable and resilient power source that can maintain operation during storm events and grid outages.
Utilities interested in getting ahead in the microgrid space, including San Diego Gas & Electric, are partnering with technology developers and customers to deploy pilot microgrid projects that can improve reliability and provide distribution-level benefits.
Future Microgrid Deployments
We will be keeping tabs on planned microgrid projects as they are deployed over the next few years while adding more planned microgrids and updating operational microgrids with new technologies as they are incorporated into current projects. To learn more about the Microgrid Databases and the future of microgrids, reach out to one of our many energy experts.