Scaling up Passive House initiatives in New England
Helping transform the residential new construction housing market through innovative incentives and workforce training.
RESULTS AT A GLANCE
5,000+
units pursuing the Passive House standard
93
accreditation reimbursements processed
Traditional demand-side management programs are no longer sufficient for New England clients to fulfill their aggressive energy efficiency goals. We launched a Passive House—a set of design principles used to attain energy efficiency in a building—initiative with the Sponsors of Mass Save® and then scaled it to Energize Connecticut, transforming the market for new homes to meet and exceed the energy-savings target across New England.
Massachusetts has established the most ambitious greenhouse gas (GHG) reduction goals in the country: 50% reduction below 1990 levels by the year 2030 and 80% by 2050. Buildings throughout the Commonwealth account for nearly 50% of the total annual GHG emissions. The need to reduce energy consumption in buildings—particularly in residential dwellings—is imperative.
Massachusetts, as with many states across the country, is under pressure to meet an ever-growing demand for housing and has set a goal to add 135,000 new housing units by 2025. The state has one of the most progressive residential building codes in the country, but that alone has not reduced fossil fuel consumption in new homes to the levels required to meet statewide GHG emissions reductions. The need to scale high-performance residential new construction is clear. But key market actors such as builders, developers, and architects require both the training and financial incentive to bring forth a change in the market.
Related services and industries
In August of 2019, in partnership with the Sponsors of Mass Save®, our team developed a first-of-its-kind incentive and training initiative for residential new construction, leveraging the Passive House building energy standard. The Passive House standard was first established in Europe and focuses on achieving ultra-low residential heating and cooling loads and resilient building structures through super-efficient building envelopes and HVAC equipment. It is currently promoted and governed in the U.S. by both Passive House Institute (PHI) and Passive House Institute US (PHIUS).
The Mass Save® Passive House program designs are focused on scalability, streamlined delivery, and engagement with national organizations and subject matter experts. The initiative utilizes a two-pronged approach to impact market transformation:
First, through Passive House Training, and in collaboration with local organization Passive House Massachusetts, we seek to increase awareness and provide in-depth training to stakeholders on the Passive House building standard. Trainings include high-level lunch and learns to promote exposure to Passive House, as well as comprehensive half-day workshops that dive deep into technical specifics. The Passive House training also includes a 50% cost reimbursement for individuals that achieve professional Passive House accreditation with either PHI or PHIUS.
Second, the initiative offers Passive House Incentives for multi-family projects to assist builders, developers, and architects in exploring the feasibility of achieving Passive House standards on their projects and to defray some of the incremental costs.
Following the success of the Mass Save initiative, we partnered with Eversource and Avangrid in late 2020 to launch a similar initiative for Energize Connecticut. The culmination of partnerships with PHI and PHIUS on a national scale allowed us to quickly launch the Passive House training in Connecticut. The cornerstone of our strong partnerships includes collaborating with the local passive house community and non-profits, particularly Passive House Massachusetts (PHMA) and Connecticut Passive House (CTPH).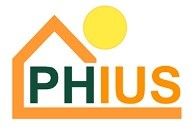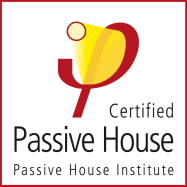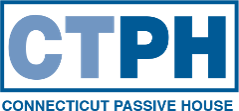 In addition, we launched a virtual training infrastructure: The online Passive House Learning Center. Participants can earn professional CEUs by participating in live and recorded webinars from our no-cost lunch and learns and workshops, which provide an on demand, flexible learning environment. Through the COVID-19 pandemic, we continued to offer virtual trainings, lunch and learns, and workshops that we transitioned from in-person to a webinar format. An overwhelming number of attendees participated. Our Passive House Learning Center is the main platform for participant engagement.
We learned through our experience with the Mass Save® and Energize Connecticut Passive House initiative that market awareness and workforce know-how are the biggest barriers to scale Passive House standards in the residential new construction market. We are transforming the market through forging relationships with key Passive House organizations and launching a no-cost comprehensive educational initiative for workforce professionals.
To date, the Passive House Training initiatives in Massachusetts and Connecticut have achieved:
1,741
total attendees at 41 lunch and learn sessions
93
PHIUS/ PHI accreditation reimbursements processed
$60,803
total reimbursed from accreditation
"ICF brings passion and expertise implementing our innovative Passive House Initiative. They leverage a national network of Passive House professionals and their strong relationships with industry organizations to curate exciting and relevant training courses."
– Nick Jones, Energy Efficiency Consultant, Energy Efficiency at Eversource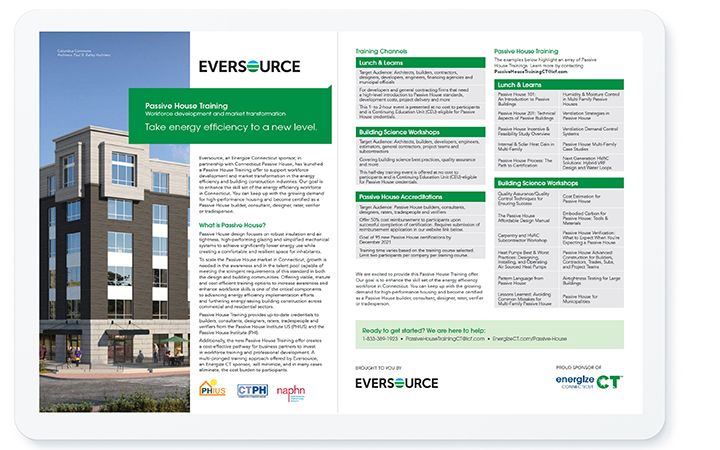 Passive House incentives for multi-family projects in Massachusetts have accomplished:
5,000
units pursuing Passive House standard
51
feasibility projects completed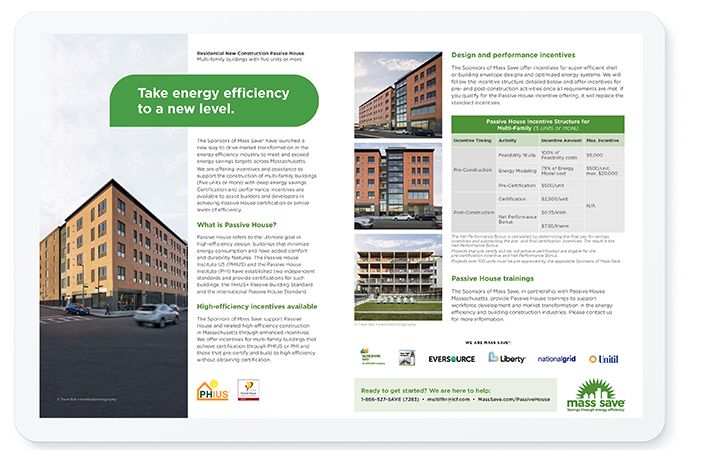 "With a goal to scale the Passive House standard, ICF has proven to be a leader and innovator, delivering viable and effective training to enhance the skill set of the energy efficiency workforce in Massachusetts."
— Amanda Formica, Senior Analyst Customer Energy Management, National Grid