ICF's financial leader on her Hispanic heritage, mentoring, and building a network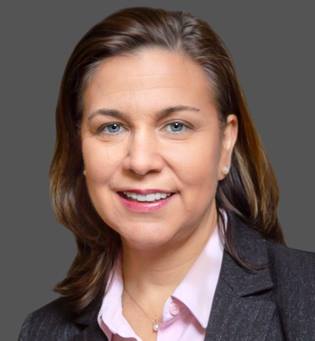 When Bettina Garcia Welsh took the reins as ICF's next CFO, she knew it would be a big job. But she was ready.
For starters, she has strong roots in international development consulting. "I was one of the first to join a newly created team at Price Waterhouse's (PwC) Office of Government Services," Bettina explains. Her team built a practice for PwC's growing USAID and State Department portfolio. The role was exciting for a myriad of reasons. It was also personal. A first-generation American, Bettina is the daughter of a Spanish father and a Peruvian mother. "I thoroughly enjoyed working throughout third world countries, especially in Latin America."
"After 13 years of consulting, I decided to join the finance team of an organization and implement many of the tools and lessons I had experienced as a consultant."
Eventually, she moved from consulting to finance, and from SAIC to Leidos to LMI, then to ICF. "I was excited to join a diverse—in terms of people, experience, and perspective—global consulting services company dedicated to positively impacting our world community," she says. She took the reins here during an admittedly tumultuous time. Like other CFOs around the world, Bettina had to assess the financial impact from potential business disruptions and take steps to protect the financial health of ICF.
"We're fortunate to have a diversified business base, a substantial backlog, a record pipeline, and identified growth areas. We have also proven our ability to operate effectively as business conditions change. And most importantly, our employees have demonstrated how our culture has enabled us to perform well during a crisis."
It helps, too, how well her values line up with ICF's, as Bettina sees power in the words and actions that drive a company. "Transparency, communication, collaboration, commitment, integrity, and innovation are so important to me. I look to celebrate each person's individual gifts, which collectively strengthens our team."
Rising stars all start somewhere
That said, there are many in Bettina's past who shaped her present success. One of her earliest mentors helped guide her to consulting, introducing Bettina to the opportunity at PwC. Each one—whether through a formal mentorship program or an informal relationship—shared relevant experiences, suggestions, and networks to set the course for her career journey. Now, as a mentor, "I learn so much seeing an experience through the other person's lens. It helps me grow my perspectives immensely." At a previous job, Bettina stood up the Hispanic employee networks and truly enjoyed watching the mentoring initiatives her team put in place come to life. "Mentoring is one of the best ways to support our diverse group of employees," she adds.
ICF is currently expanding our professional development, networking, and community outreach programs, and Bettina is ready to do her part. "I am grateful for the many mentors who have supported me in my personal and professional journey," she says. "And I'm honored to pass on the knowledge they've helped me gain, and the experiences they've helped me enjoy."