Our decade+ of experience with Adobe Experience Cloud contributes to industry recognition.
ICF Next has been an Adobe Solution Partner for over 12 years and we've been fortunate enough to be recognized in many ways, including winning the Adobe Marketing Cloud North American Partner of the Year. Recently, our momentum as a Solution Partner has grown with new accolades and recognition.
One of 24 implementation service providers
First, we're proud to be included in the Now Tech: Adobe Implementation Services, Q1 2020 report (subscription required) by leading global research and advisory firm Forrester Research Inc. This report identified 24 consultancies, agencies, and tech services firms and segmented them based on market presence and capabilities.
Forrester Research Inc. defines the Adobe implementation services market as:
Service providers that help Adobe customers successfully implement Adobe Experience Cloud solutions. Key services include design and consulting, implementation and technical services, and operational support.
"We're excited that our Adobe practice has been recognized by Forrester Research," said Dan Knauf, chief technology officer of ICF Next. "Our clients are looking for innovative ways to connect with their customers and maximize their investment in their marketing technology stacks, most of which have Adobe at the core. We're able to deliver that on a global scale."
For ICF Next, implementation goes beyond putting a solution in place. We provide clients with a variety of additional services that complement any technology implementation. This includes strategy, organizational design, change management, content creation, insights, and managed services for ongoing optimization.
Going Platinum
Secondly, we are proud to announce that ICF Next is now an Adobe Solution Partner, Platinum Regional. This upgraded Solution Partner status brings ICF Next into the next level of classification in the Adobe Solution Partner program. As an Adobe Platinum Regional Solution Partner, we continue to bring the best solutions to our clients across the entire Adobe Experience Cloud.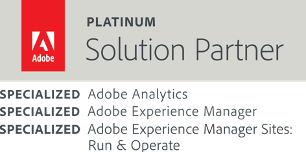 Expanding specializations to run and operate
Finally, this new partner status comes after ICF Next also achieved our fourth overall Specialization, third in the Americas, for Adobe Experience Manager Sites: Run and Operate. We are also specialized in Adobe Experience Manager in the Americas and APAC, and Adobe Analytics in the Americas. With these Specializations in conjunction with our consulting services, we provide our clients with a holistic set of solutions that focus on insights, scalability, and fluid customer experiences.
ICF Next has worked with Adobe Experience Cloud solutions for over twelve years, starting with Adobe Experience Manager. Our continued growth into other areas of the Adobe Experience Cloud is purposely focused to give our clients solutions that drive meaningful results and grow their businesses.