ICF at AWS Summit
Walter E. Washington Convention Center, Washington, DC
Jun 7–8
6/7/2023 12:00:00 AM
6/8/2023 12:00:00 AM
America/New_York
ICF at AWS Summit
Walter E. Washington Convention Center, Washington, DC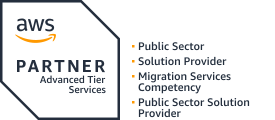 Visit ICF at booth #423
We understand your data, domain, workflows, and context. Our teams combine that knowledge with technology expertise to help meet enterprise goals and accelerate mission outcomes.
Join our sessions
Mission-Obsessed, Tech-Forward: How the GSA Transforms Business
June 7th | 12:45 PM - 1:15 PM
Successful modernization requires an artful blend of people, process, and technology considerations—with a relentless focus on enabling business transformation.
In this session, hear from the General Services Administration's (GSA) mission-focused Federal Acquisition Service (FAS) ACIO on how, after only 3 years, their modernization approach is helping to transform the procurement process for GSA's federal customers and the citizens they serve, while unlocking innovation for the agency.
Join us and learn what it takes to reinvent the business and discover how GSA's shift from a cloud-first to a cloud-smart strategy could provide a template for agencies to supercharge mission outcomes.
Featuring:
Sagar Samant, FAS IT Associate CIO, U.S. General Services Administration
Kyle Tuberson, Chief Technology Officer, ICF
Solving mission-critical challenges through data modernization
June 7th | 4:10 PM - 4:40 PM | Athena Partner Theater
Data can unlock insights, provide better services to citizens and employees, and help the federal workforce make smarter decisions. But building a data culture to connect the dots between mission and modernization is a critical first step to delivering tangible value.
In this session, we've asked agency leaders to discuss how they've successfully leveraged data to propel their missions forward and share how other leaders can use those methods to accelerate outcomes and make a lasting impact.
File Under
Technology
ServiceNow
Digital transformation
Public sector