Other
International Society of Exposure Science: ICF Food Truck Rodeo
DATE
October 15 - 19, 2017
Registration Closed
LOCATION
Sheraton Imperial Hotel & Convention Center (4700 Emperor Blvd, Durham, NC, 27703)
Register
Join ICF's health science practice and various practitioners associated with all aspects of exposure science at the International Society of Exposure Science's (ISES) Annual International Meeting in Research Triangle Park, NC, USA. The 2017 conference theme is Integrating Exposure Science Across Diverse Communities. Attendees will see creative symposia, talks and posters that incorporate the meeting theme and emphasize the interdisciplinary and multi-scale nature of exposure science, as well as the different communities involved.
ICF's environmental health science consultants will be building on this "Triangle" theme throughout their presentations and posters by integrating three distinct yet interconnected elements related to exposure science.
ICF organized the FOOD TRUCK RODEO as an opportunity to network, socialize, and support local businesses immediately following the ISES Technology Fair on Tuesday October 17th from 6:45-9:00 pm in the parking lot of the Sheraton Imperial Hotel & Convention Center.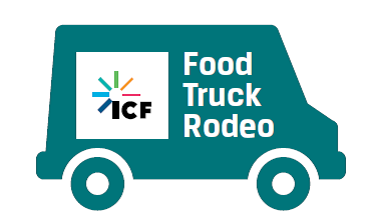 ICF's Food Truck Rodeo will provide the opportunity to purchase food and beverages from the following businesses:
Sheraton Imperial Bar serving wine & beer