Conference
APHA 2017 Annual Meeting & Expo
DATE
November 4 - 8, 2017
Registration Closed
LOCATION
Atlanta, Georgia (Georgia World Congress Center)
ICF was a proud exhibitor and sponsor at The American Public Health Association's (APHA) 2017 Annual Meeting & Expo in Atlanta, Georgia. In addition to our mobile app and annual meeting blog sponsorship ICF had over 20 presentations and posters at the conference.
As a company with significant business focused on environmental sustainability and on public health, ICF has been at the epicenter of critical global health issues for nearly half a century. We align with our clients to advance quality of life through improved health outcomes. We are health professionals who have devoted our careers to addressing complex health issues in a responsible, sustainable way.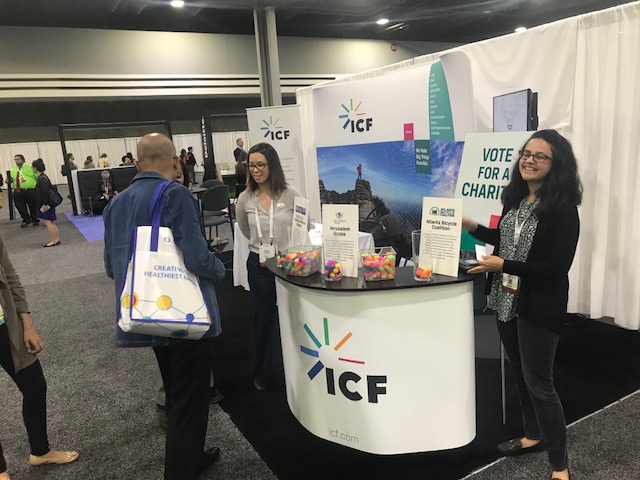 If you visited the ICF booth during APHA, you were offered the chance to vote for a local charity to receive a $500 donation from ICF. Over 1,000 visitors cast their vote for one of three great charities at our booth — and your participation made it an especially close race. We're excited to announce that the winner is:
The Center Helping Obesity in Children End Successfully, Inc (C.H.O.I.C.E.S)
C.H.O.I.C.E.S. is a grassroots organization that was formed in April 2002 to join the fight against the deadly epidemic of childhood obesity. Thanks to our visitors, ICF will donate $500 to support the excellent work the C.H.O.I.C.E.S. is doing to improve health outcomes in Atlanta.
Regardless of how you voted, we have good news: to recognize the excellent work done by the other two charities in the running, ICF will make smaller donations to the Atlanta Bicycle Coalition and Jerusalem House, too. Thank you for helping us give back to the Atlanta Community!
Check out some of our featured health articles on the ICF Spark blog below.